Makes 6
Ingredients
18 mini doughnuts
1 cup (150g) icing sugar
1/3 cup vanilla frosting
jelly beans, choc chips, lolly straps, to decorate
You will also need:
Method
Step 1. Dust doughnuts in icing sugar to create a frosted appearance.
Step 2. Thread three doughnuts onto each bamboo skewer.
Step 3. Use frosting to adhere choc chips for eyes, an orange jelly bean for a 'carrot' nose, and coloured jelly beans for buttons.
Step 4. Cut lolly straps into short strips. Tie around 'necks' to create scarves.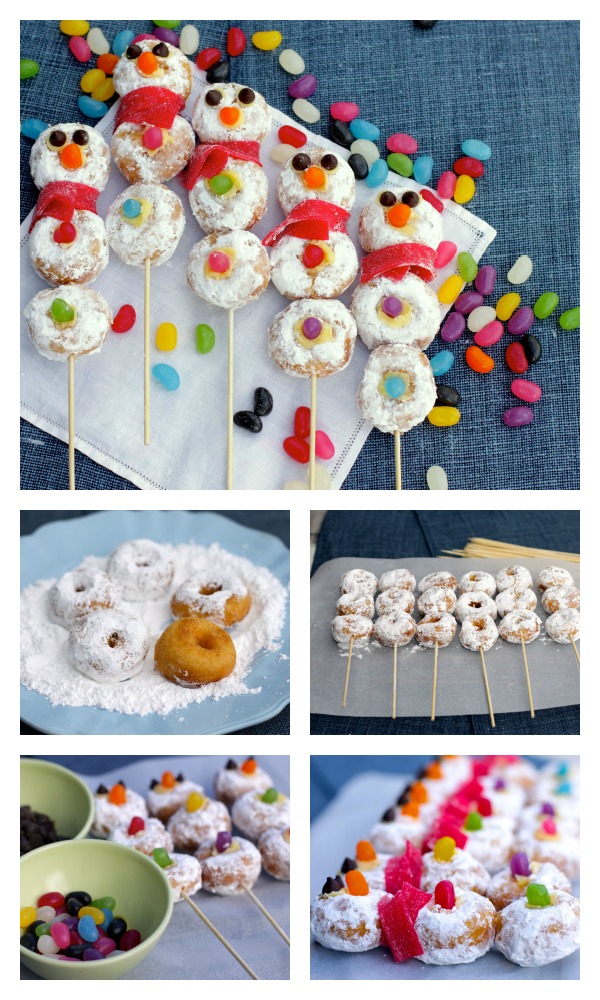 Find more sweet recipes
Give these cute snowmen as gifts by placing them head first into a cellophane bag and tying with a ribbon.
Mini doughnuts are available from doughnut stores and some supermarkets.
Make your own frosting with icing sugar and butter.
These Cranberry and pistachio biscotti are a delicious and sophisticated homemade gift.
These sweet Christmas gingerbread reindeer are a delicious gift to bake and give.
If you like Rocky road then these Christmas rocky road bites are delicious. Just don't forget they contain nuts so you may need to label them.
You can make these Christmas chocolate spoons with the kids and enjoy some family time as you decorate them together.
Edible glitter berries are the perfect addition to a platter, buffet table or even on the top of your favourite chocolate cake.
This Fruit Christmas tree is a healthy alternative to all the indulgence of Christmas. It could be a beautiful edible centrepiece for your table.
These Caramel Christmas apples are a delicious take on candy apples for the festive season.
Christmas tree cupcakes are a delicious take-along addition to any party and very easily shared with friends.
These Christmas snowflake biscuits are a lovely homemade gift for teachers and friends.
Sweet Christmas gingerbread reindeer are a delicious gift to bake and give at Christmas.
If you are looking for a simple homemade dessert for kids then this Christmas Yule log is the perfect buffet dessert.
This recipe was created for Kidspot, New Zealand's best recipe finder by Greer Worsley, who blogs at Typically Red.