Block puzzle advent calendar
Here's a way to get the kids even more excited about counting down the days to Christmas – a puzzle advent calendar! Kids will love opening the box presents each night and guessing what the complete picture will be.
What you need:
scalpel
a picture printed to size. (A3 colour printer may be required)
25 small gift boxes
glue
ruler
Blue Tack
permanent marker
25 little gifts to place inside – tree ornaments, little notes, chocolates etc.
Number of players:
Activity:
Step 1. Using a scalpel and a ruler, cut the big image into five 5cm strips, then cut these into smaller squares so you have enough puzzle piece images for all 25 boxes.
2. Place a gift inside each box and then glue the box shut. Glue a puzzle piece image on the front of each box and leave to dry.
3. Write calendar numbers on the back of each box with a permanent marker.
4. Place the boxes in a grid form on a shelf (using Blue Tack to secure to the wall if you wish) with the numbers facing outwards. Have your kids open the appropriate calendar box each night in the lead up to Christmas. Then turn the box over to reveal the picture and leave it displayed until all boxes are opened and the whole image is revealed.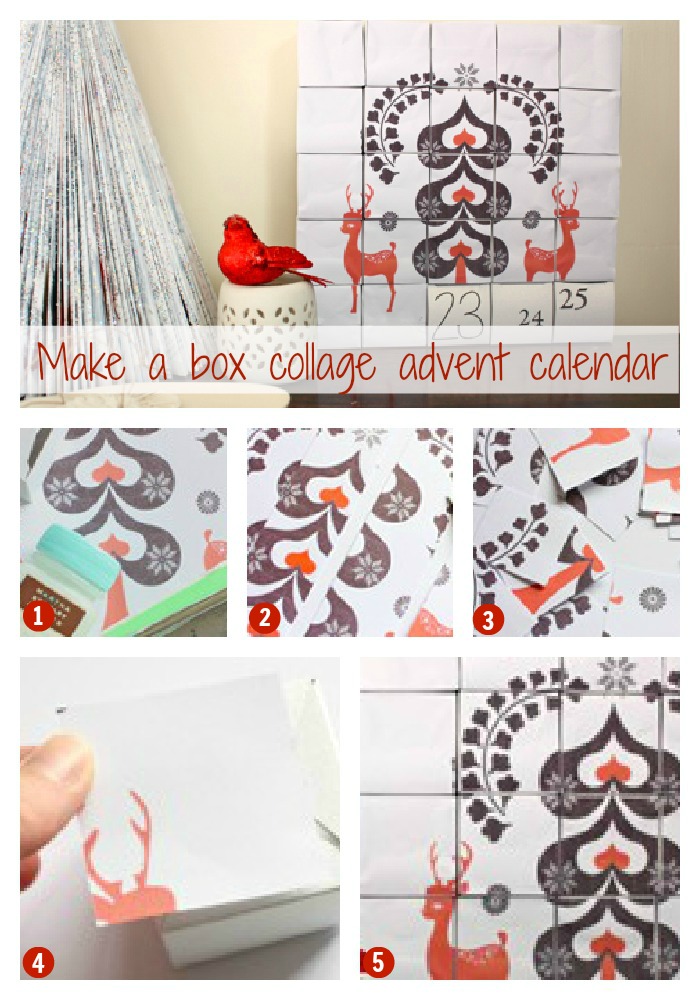 This craft was created by The Happy Home Blog.