Christmas gingerbread reindeer
Serves:
Ingredients
1/2 cup (125g) butter, softened
1/2 cup (80g) brown sugar, packed
1 egg, yolk only
1/2 cup golden syrup
2 1/2 cups (375g) plain flour
1 1/2 tbsp ground ginger
1 tsp mixed spice
1 tsp bicarbonate of soda
white writing icing
black writing icing
red M&M's MINIS
Method
Find related sweet Christmas recipes
Serving Suggestions
Note
Step 1. Preheat oven to 180°C (160°C fan-forced). Line a tray with baking paper and set aside. Beat butter and brown sugar together using an electric beater, stand mixer or food processor. Add egg yolk and golden syrup and mix until combined. Add flour, ginger, mixed spice and bicarb soda and combine.
Step 2. Place onto a piece of baking paper and then cover with another piece of baking paper – using a rolling pin, roll out the dough until 5mm thick and cut out shapes (kids can help here). Re-roll as needed, but keep using the baking paper.
Step 3. Move the cut shapes over to greased baking trays with a spatula/egg flip and bake for 8-10 minutes. Once baked, let cool for 10 minutes on the tray and then transfer to cooling rack.
Step 4. Using the white writing icing, outline the ears, draw antlers, eyes and eyebrows. Using the black writing icing, dot the eyes and draw a mouth. Place a red M&M's MINIS on the nose.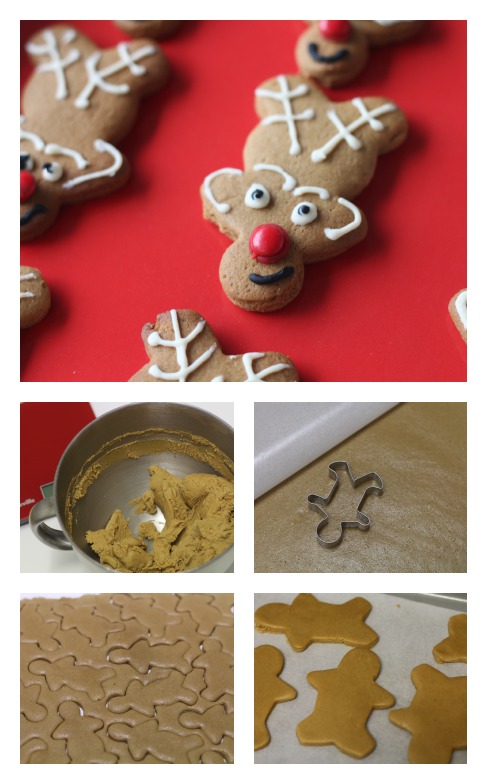 The magic of this recipe is that you can roll it out and use it straight away.
If you don't want to use white writing icing, you can use royal icing instead and pipe it from a ziplock bag with the corner snipped.
This recipe was created by Jennifer Cheung for Kidspot, New Zealand's best recipe finder.