Ingredients
2 x blocks (375g) cooking milk chocolate, broken into pieces
1 tin (395g) sweetened condensed milk
1 tbsp butter
1 pkt (160g) M&M's Mini
Method
Step 1. Gather all ingredients together.
Step 2. Place chocolate, condensed milk and butter into slow cooker on high with the lid off. Stir with a metal or silicon spoon every 15 minutes until melted and turn setting down to low and continue to stir every 15 mins for the remaining time (up to 2 hours).
Step 3. Pour into a lined 20cm x 20 cm square cake tin and smooth over the top.
Step 4. Sprinkle with M&M's Mini and place into the fridge to cool for 1 hour. Cut into squares and serve.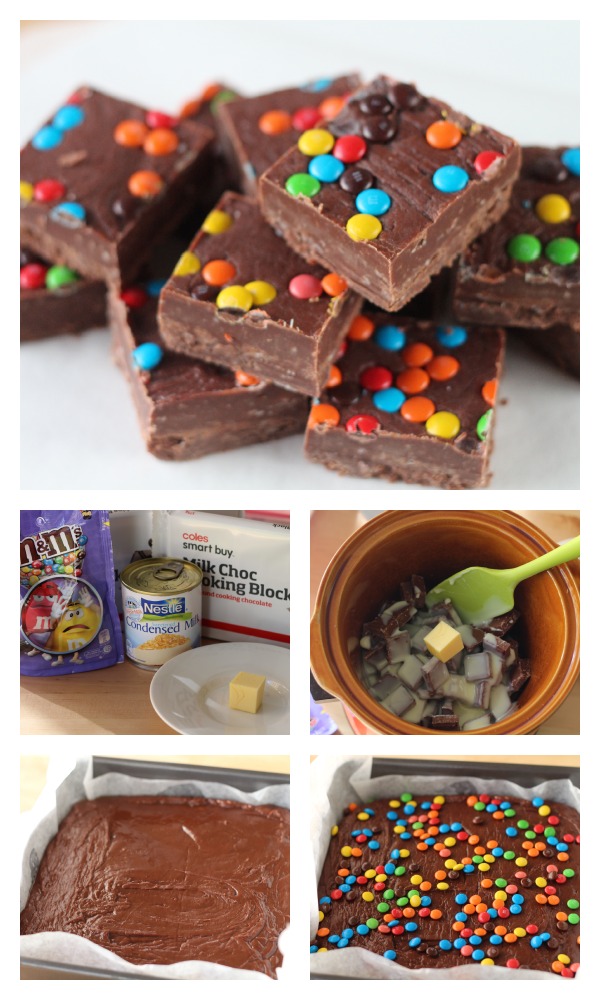 Find related fudge recipes
This fudge is quite firm and would be softer if you use about a quarter less chocolate.
Moisture is the enemy of chocolate and will cause it to seize and become lumpy. Make sure you DO NOT use a wooden spoon and DO NOT put the lid on the slow cooker for this recipe.
You could make this into white chocolate fudge by replacing the milk chocolate with white chocolate.
If you don't have a slow cooker you could always try Fudge in a bag with the kids for a fun activity.
Caramel fudge is a deliciously creamy alternative to chocolate fudge.
Easy chocolate fudge can be wrapped up into tiny bite-sized pieces and given as a gift.
2 ingredient chocolate fudge is our most popular fudge and so easy the kids can make it.
This recipe was created by Jennifer Cheung for Kidspot, New Zealand's best recipe finder.