10 easy Book Week costume ideas
What you need:
Number of players:
Activity:
Book Week is one of Australia's great children's festivals of reading, children's books and authors. Book Week has been running since 1945 and is usually held in August, with schools and libraries celebrating with dress ups, book readings and discussions about stories and books.
The date for Book Week in 2012 will be Saturday 18 August until Friday 24 August and in 2013, Book Week will be held from August 17 until August 23. Often Book Week demands that kids get in the spirit by dressing up as their favourite book character – one of those costume challenges which doesn't have to be expensive or time consuming with this list of easy Book Week costume ideas.
Book Week idea #1:
Thing One and Thing Two from The Cat In The Hat by Dr Seuss
This one is simpler than it looks. It's especially ingenious if you have twins or even two children who are close together in age. For the really easy version, just add a bright blue beanie for the 'hair.' But if you are interested in making it look really whacky, the how-to video shows you how to make a kooky Dr Seuss-style wig from a feather boa as well.
How to create Thing One and Thing Two dress up costumes
Book Week idea #2:
Wally from Where's Wally by Martin Handford
This is another deceptively simple one. Just add a silly grin and your child is ready to start photo-bombing. Apparently Wally sometimes has a cane, so add that litle accessory if you want to be true to the book character.
Book Week idea #3:
Harry Potter or Hermione from Harry Potter series of books by J.K. Rowling
Don't be held to ransom by merchandising money-spinners. Just make your own. The how-to video below shows you the basics of a Hogwarts uniform plus the accessories required to make it look convincingly Harry. You can turn this costume into Hermione with a few simple tweaks.
Book Week idea #4:
Olivia the piglet from the Olivia books by Ian Falconer
Oh how cute is Olivia? Your little girl will love this piglet costume that celebrates a bolshy female book character who gets into trouble because of her endless curiosity. The ears and snout are easy to make though if you can't lay your hands on foam board (try a cheap Hot Dollar shop), then use cardboard and paint it pink. Add red stripy clothes. Cute!
Book Week idea #5:
Angelina Ballerina from the Angelina Ballerina books by Katharine Holabird and Helen Craig
This is so easy it's stupid. The video shows you how to make some easy Angelina mouse ears. All you need do is dress your little girl in her usual ballet regalia.
For an easy 'night before' version, just use cardboard for the ears and colour them pink. We've even provided a FREE printable template so you can get the shape right.
Book Week idea #6:
Pearlie the fairy from the Pearlie series of books by Wendy Harmer
Your little girl will love an excuse to go off to school in full fairy princess regalia. Think pink. A wand, wings and tutu are all you need and with these instructions, they are a cinch to make at home. Most little girls have some form of tutu or ballerina dress in their dress up repertoire and fairy wings are easier than you think.
Book Week idea #7:
A witch from Room on the Broom by Julia Donaldson and Axel Scheffler
If you don't have this book, you must get it. It's a simple but clever rhyming book with a really great story about a witch who has a cat and a long ginger plait. She's very considerate and picks up three more passengers on her travels: a dog, a bird and a frog. So you could also add these props to your broomstick if you have them on hand.
Our witch costume activity page has some great tips on how to cobble together a homemade 'night before' witch's costume.
Book Week idea #8:
A princess like Rapunzel by the Brothers Grimm
Crown + braid + gown = Rapunzel. If your child doesn't like the idea of the braid, you could ditch the wooly hair and simply be Aurora from Sleeping Beauty. Or possibly Snow White.
Just make a silver crown and add a long wool braid – gather some long strands of yellow wool, tie them off at the end and plait them together. Attach the braid to the crown.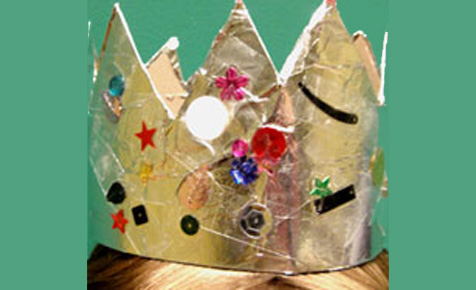 Book Week idea #9:
A rabbit from Peter Rabbit by Beatrix Potter
Bunny ears + bunny tail + waistcoat or blazer = Peter Rabbit.
Simple make a bunny mask and tail, then add a light blue waistcoat or blazer (check everyone's wardrobes, then if nothing emerges, get thee to Vinnies). Wear long pants and a check shirt underneath.
Book Week idea #10:
A pirate from The Night Pirates by Peter Harris and Deborah Allwright
The beauty of this book is there are boy pirates and girl pirates. So if you have a little tomboy who eschews all things pink and fairy, try sending her off to the Book Week parade as a pirate. Ah-harrr!

Find more great reading ideas for kids:
Learning benefits of play, craft and activities: