Craft a tissue box monster
Those large openings are screaming out to be fed – fingers! Toy cars! Little figurines! The kids will have fun feeding the the hungry beast of a tissue box monster, but they'll have even more fun making it.
What you need:
Tissue box
Glue
Paintbrush
Tissue paper or plain paper to cover the box
Sticky tape
White cardboard or paper
Plastic googly eyes
Scissors
Decorations (including coloured paper spots, wool, egg cartons)
Number of players:
Activity:
Step 1: Remove the plastic insert on the inside of the tissue box opening.
Step 2: Wrap the box in paper with the opening face down so the sticky tape areas are to the back.
Step 3: Using scissors, cut the hole through the paper.
Step 4: Cut plain white paper or cardboard into a jagged edge to create 'teeth'. Use a paintbrush to glue these to the inside of the opening.
Step 5: Press the "teeth" on the inside of the opening on the top and bottom.
Step 6: Have the kids decorate theior monster with coloured paper spots or stickers, wool for hair, paddle-pop stick arms, pipe-cleaner antennas and egg carton eyes – the more the monsterier!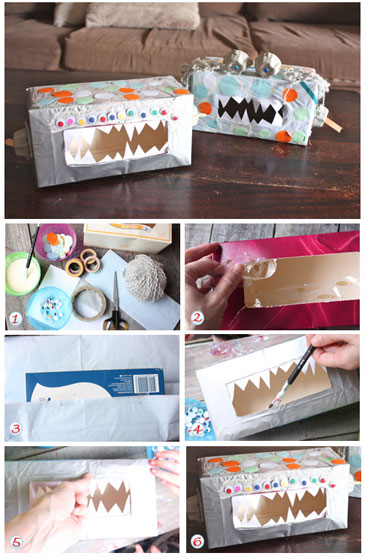 This craft was created by Belinda Graham, who blogs at The Happy Home Blog..