DIY fizzy chalk paint
Making fizzy chalk paint with your kids is a fun outdoor activity. These fizzing paints add an element of scientific fun that will keep little painters occupied for hours. Best of all, the rain will clean up the paint mess for you!
What you need:
1/4 cup cornflour
250g of baking soda
1/2 cup cold water
a few squirts of dishwashing liquid
a few drops of food colouring
white wine vinegar
paint brushes
Number of players:
1
Activity:
Step 1: Gather your ingredients. Combine the cornflour, baking soda, water and dishwashing liquid in a large bowl.
Step 2: Add the food colouring to your paint mix. You might like to divide your mixture into separate, smaller bowls to make multiple colours. We like using an old muffin tin as a palette for different colours.
Step 3: Take your chalk paint outside and get creative painting your path or driveway!
Step 4: For some extra fizzing fun, fill a spray bottle with vinegar.
Step 5: Spray the vinegar onto your artwork and watch it fizz. Cool!
Step 6: Check out your child's fizzing chalk art creations. Look at that bubbling leftover paint.
Step 7: The rain will wash away the mess that your fizzy chalk paints have made. Bonus!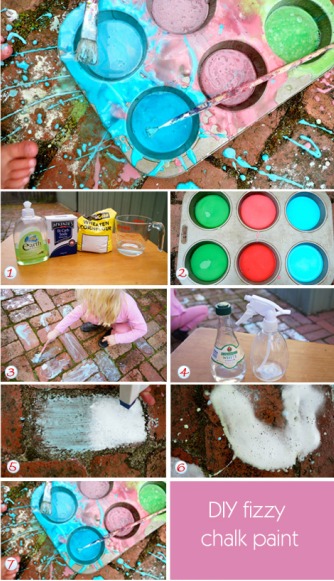 This craft was created by Emma Rowe, who blogs at frog, goose and bear.