Fashion fun: decorate your own shoes
Shoes they've decorated themselves? Well, if it gets them excited about putting their shoes on, then it's worth the wonky patterns and random scribble. Of course you could always decorate them yourself, but for a $4 pair of shoes, why not let them have a go!
What you need:
Stained by Sharpie fabric pens (from Officeworks)
Plain white canvas shoes – these were $4 from Kmart
Number of players:
1
Activity:
Not much to this one: give little ones an idea – spots or stripes or zigzags – and let them get creative.
For more direction, give them a small selection of colours that look good together (like pink, red and orange) or draw some patterns or outlines in black and let them colour it in.
Older kids will love to make their own mark – my son coloured one shoe in rainbow colours and on the other one drew dinosaurs!
Voila! Some funky, fashionable and uniquely decorated shoes for kids.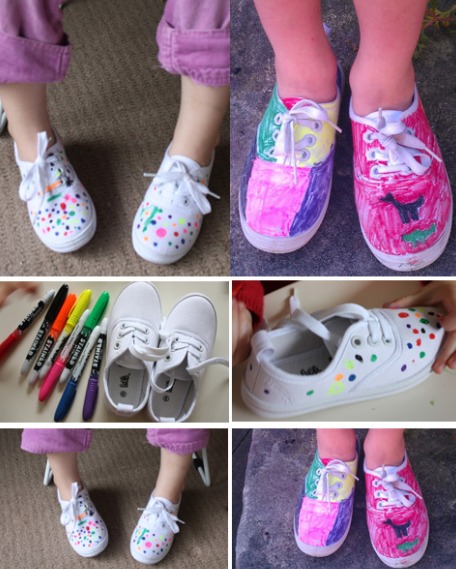 This craft was created by Belinda Graham, who blogs at The Happy Home Blog.