Maths for kids: Ready reckoner
Times tables can be a tricky subject to grasp and whether the kids are learning repetitively with song, charts or random sums, you can help make things a little easier with this ready reckoner for kids. This table maps out the times tables with basic steps.
What you need:
computer with internet access
printer
Number of players:
Activity:
Many of us can recall memorising our times tables as children. However the teaching of multiplication in schools has now changed from the rote learning of times tables. Your child's ability to visualise the process that is occurring when they multiply two numbers together is an important part of learning times tables.
Multiplication is taught from the first year of school, which can surprise parents as many think of multiplication as a concept taught in the primary years. In fact, strong foundations for multiplication are taught from kindergarten or prep in some states.
Teach your kids with this times table ready reckoner that 3×7 is the same as 7×3 and by following this simple chart, children will quickly learn the times tables without having it memorised only in song and not in random sums.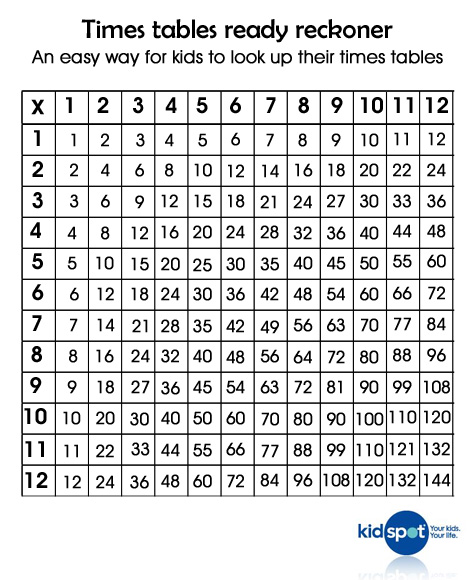 Print this free times table ready reckoner for your kids.
For more on maths milestones, check out this great article multiplication facts.