Amazing salt crystals
This fun growing experiment is a great way to get the kids interested in science. Within a few hours you can see the crystals start to grow.
What you need:
Epsom Salts & Table Salt (you could also try Rock Salt or pink Himalayan Salt)
Clean Jars
Kitchen string
Popsicle sticks
Metal washers
Measuring jug (300ml is fine)
Saucepan or Microwave dish
Tap water (Distilled water would be great, but not easy to get)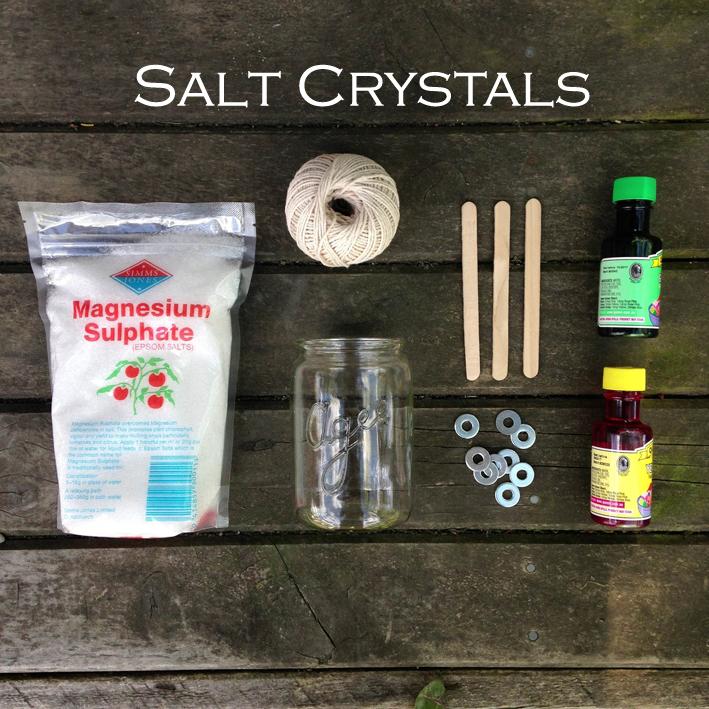 Number of players:
Activity:
You'll need approximately 250mls of water to fill a small jar, and 250mls of salt -aiming for equal parts to create a saturated solution.
Heat the water in a pan on the stove or in the microwave until almost boiling. Add the salt and stir to dissolve. You can keep heating to ensure it dissolves.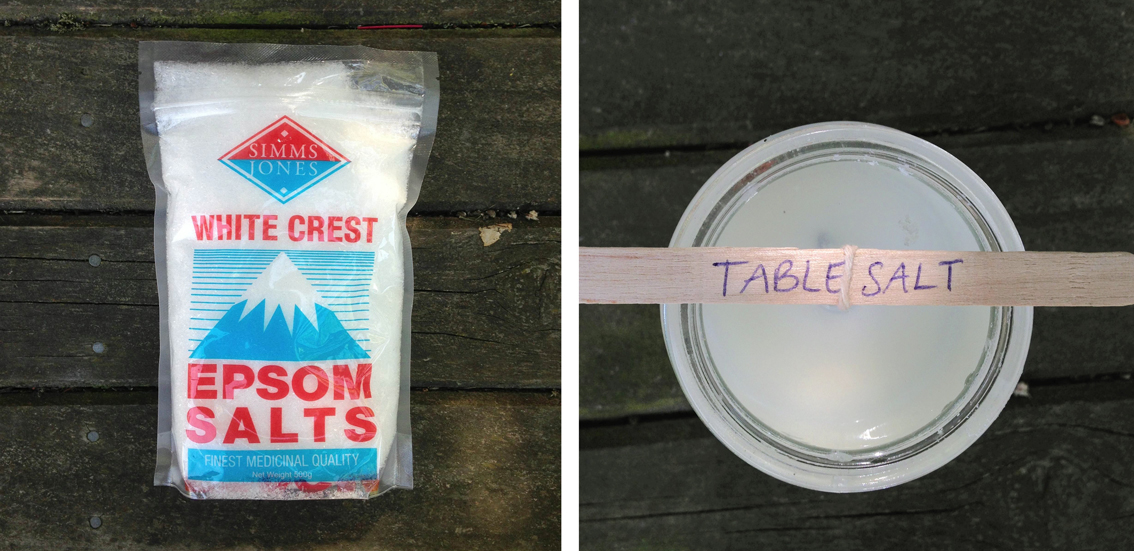 Normal Table salt didn't dissolve completely but the Epsom salts did.
Allow salty water to cool for a while and with your measuring jug, pour the liquid into your clean jar. As I mentioned, you might get a layer of un-dissolved Table salt in the bottom of your jar, but don't worry.
Next tie your string to your metal washers and then measure the length so it hangs approximately 3cm from bottom of jar – tie to ice-cream stick, cut off excess string and label your type of salt. The washers are there to ensure your string hangs straight. You could use a paperclip or similar. You could also use a pencil or chopstick to tie your string to. Centre the string so it isn't touching the sides.
This is when you can choose to add the food colouring… just a few drops!

Now you wait…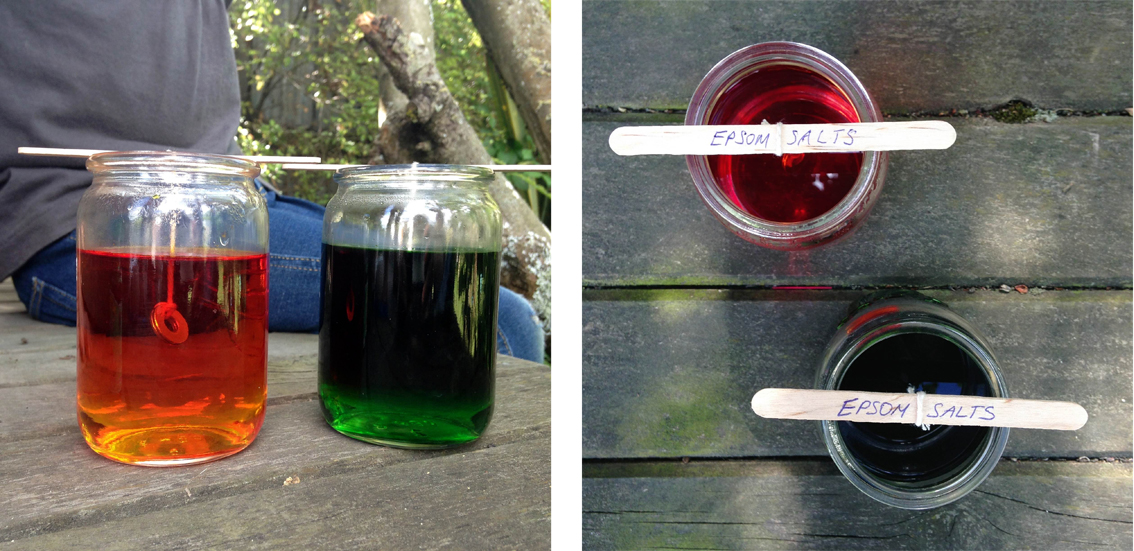 I placed the Epsom Salt in the fridge to help speed up the crystal process, but the table salt was fine on the bench.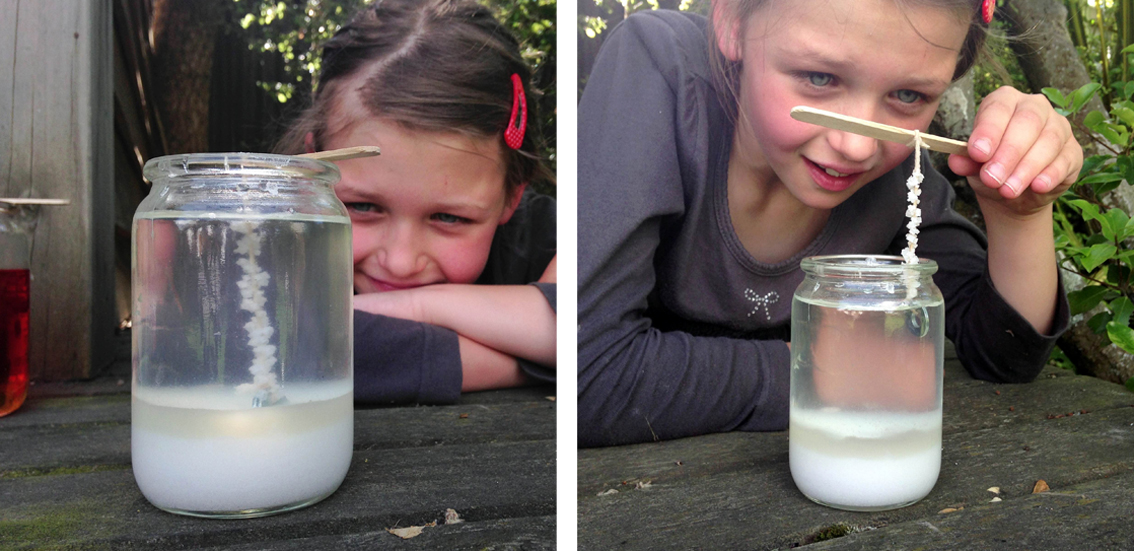 After a few hours you'll start to see crystals grow! The table salt was the fastest with square cube crystals and the Epsom Salts grew in a completely different way. They ended up much like the salts in their original form.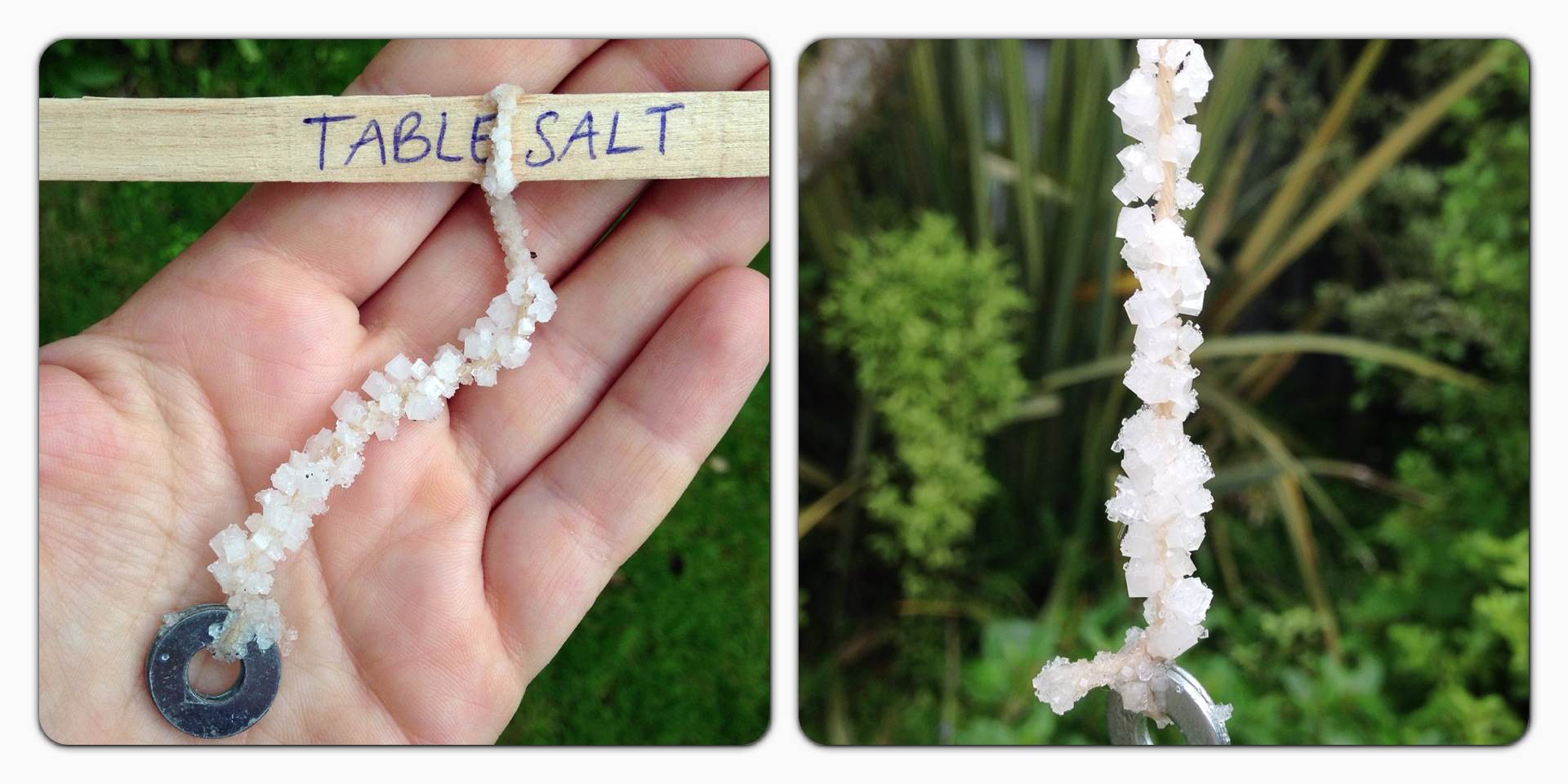 WHY???
Epsom salt is another name for the chemical magnesium sulfate. The temperature of the water determines how much magnesium sulfate it can hold; it will dissolve more when it is hotter. Cooling the solution rapidly encourages fast crystal growth, since there is less room for the dissolved salt in the cooler, denser solution. As the solution cools, the magnesium sulfate atoms run into each other and join together in a crystal structure. Crystals grown this way will be small, thin, and numerous." Source of quote: Hometrainingtools.com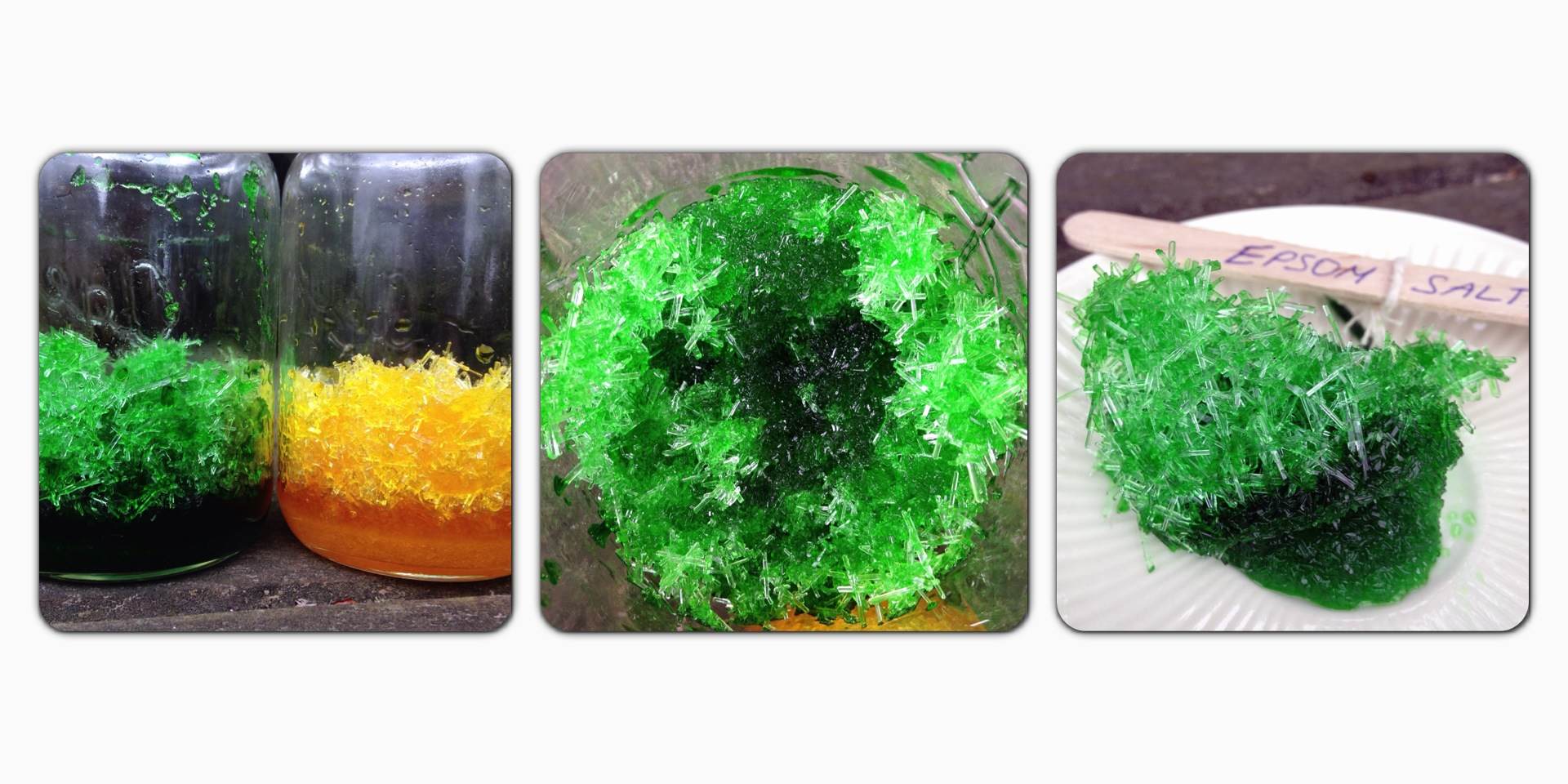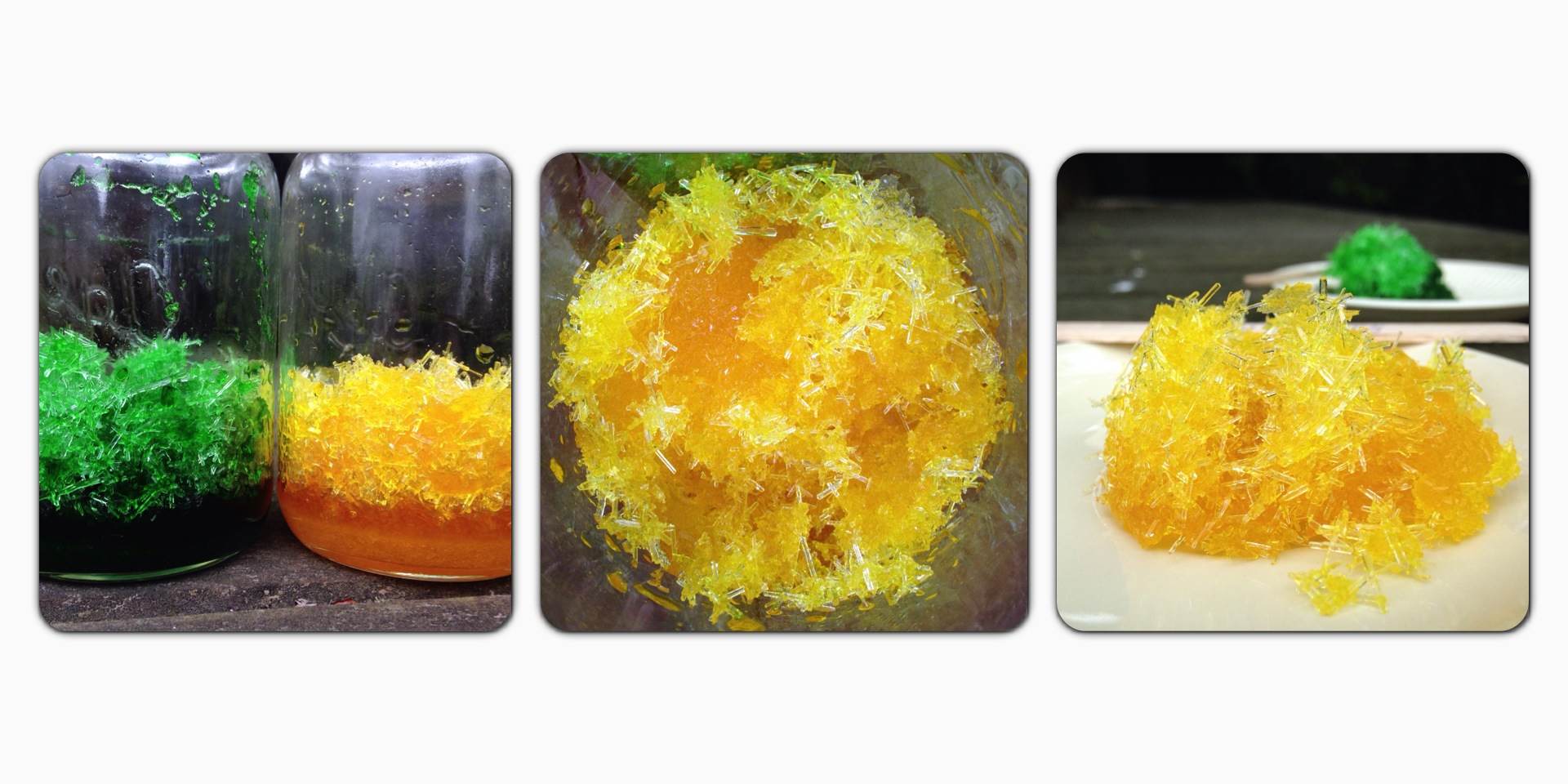 This blog was written by Gill Weavers, Kidspot Social member, for the Hasbro Month of Play promotion.