Autumn concentration
Concentration. We know it as a card game but, let's face it – kids aren't always interested in what we used to do! This game offers bright colours, fun music and even keeps count of successful matches and tries. This should stop any argy-bargy!
What you need:
computer with internet access
Number of players:
1+
Activity:
Get personal and give the computer your name. If you choose to play with a friend, type in both names so you're sure of who wins.
Once started, this game will ask you to select one card, then another. If you choose matching cards, they will stay uncovered but If no match is found, it will let you know and turn the cards back over for you to have another go.
Here's an example of a "no match!"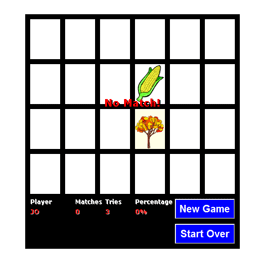 When you've finished the game and all cards have been matched, your screen will be filled with bright autumn pictures.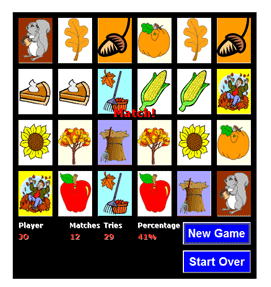 Have a look down the bottom and see if you can beat your score the next time you play.
Find paper craft ideas:
Find printables and fun: