Build it up baby: Toilet roll activity
Toilet roll activities have long been a favourite for kids. Why? Because they're a cheap and easy material that can be transformed into so many things! Try using them as building blocks for babies and get the older kids involved with the decorating.
What you need:
toilet paper rolls
stickers
scissors
kitchen paper holder
paints and brushes (optional)
tape (optional)
Number of players:
Activity:
Cutting down the toilet paper rolls into halves, ask an older child to decorate them. This will make the rolls more atrractive to play with for the younger children.
Decorating can be done with stickers, paints, paper and tape. Don't use anything like sequins, glitter or small embellishements that can be pulled off and eaten by a baby.
Set up a play area with the basket of decorated rolls and the kitchen paper holder.
The kitchen paper holder works to hold the rolls and little hands work on creating structures of different heights.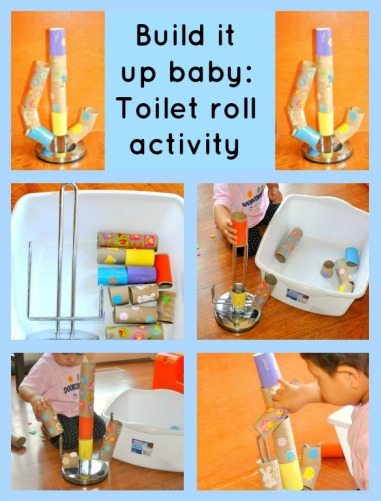 Crafted by Sujatha Balaji BlogMeMom
Pinterest: blogmemom
Facebook: Blog Me Mom