Create Aboriginal stick paintings
Paint and noise – does it get any better for kids? Take a wander down to the park to collect some sticks, then enjoy a historical art lesson, and later, a musical concert with this crafty activity.
What you need:
Assortment of sticks
White acrylic paint
A few earth-coloured paints
Paintbrushes
Egg carton or various pots to hold the paint
Number of players:
Activity:
Step 1: Squirt white paint into the egg carton and add the colours you wish to use.
Step 2: Mix the paints and keep adding colour until you're happy with it.
Step 3: Insert a paintbrush in each colour so they don't mix too soon (it's really unavoidable!)
Step 4: Start painting the sticks. Encourage the kids to draw dots and lines as much as possible to create authentic Aboriginal-painted sticks.
Step 5: Once dry, some more dots can be applied over the colour to layer it up a little.
Step 6: Send them outside to make music with their sticks!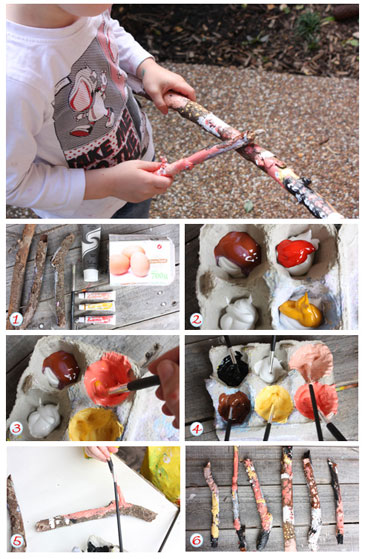 This craft was created by Belinda Graham, who blogs at The Happy Home Blog.