Make retro garden markers
Ever gardened with the kids, planted seeds into the soil – and then forgotten what's there? Check out these waterproof, recycled, retro-tastic mini garden markers. They're easy to make, you just need some plastic from your recycling bin and an old Dymo embosser.
What you need:
an 'old school' DYMO embosser label maker (available at Officeworks and eBay)
tape for the label maker (If you don't have a DYMO label maker, a permanent marker will do.)
plastic tub lid (a standard ice-cream tub lid can make eight markers)
scissors
Number of players:
1
Activity:
Step 1. Gather all you need to make your retro garden markers.
Step 2. Make your labels, this is our fave part. Turn-click, turn-click!
Step 3. Cut your tags plastic tags from the ice cream container lid. These markers are 1.5cm wide and 9cm long. Don't forget to make one end pointy!
Step 4. Stick on your labels firmly and get gardening!
NOTE: I've always been fascinated by these little label makers, but until now haven't found a perfectly practical use for them. You can imagine my amusement when after making this project I discovered that the labelling device was originally marketed to make pressed metal garden markers!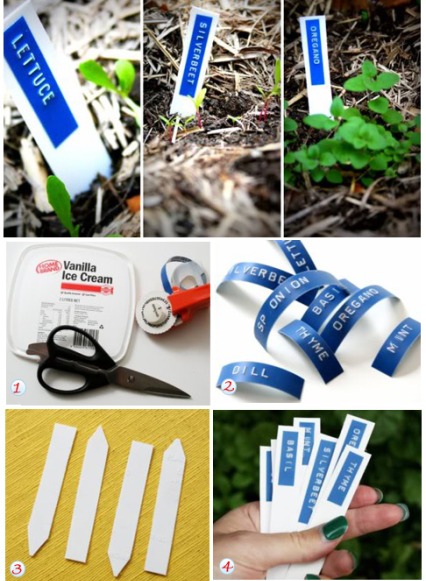 This craft was created by Cintia, who blogs at my poppet.