Christmas tree pizza recipe
Serves:
Ingredients
4 slices leg ham
1/3 punnet (80g) cherry tomatoes
4 cherry bocconcini
1/2 cup (125g) chargrilled capsicums
1/2 bunch English spinach
1 medium pizza base
1/2 cup (125ml) tomato passata
1 cup (125g) grated pizza cheese
Method
Step 1
Preheat oven to 240°C (220°C fan-forced). Use a small pastry cutter to cut circles from the ham. Slice cherry tomatoes in half and bocconcini into rounds. Slice capsicum into thin strips.
Step 2
Pick spinach leaves from stems and wash them well, then slice. Pour over boiling water to wilt. Drain.
Step 3
Place pizza base on a lined baking tray and top with passata and pizza cheese.
Step 4
Place kitchen string across pizza to divide it into four quarters and act as a guide. Decorate each quarter with the ingredients to represent a Christmas tree. Place a cherry tomato in the top corner for the star. Place mounds of wilted spinach as branches. Use capsicum as a tinsel garland. Use ham and tomatoes as baubles. Finally, dot empty spaces with bocconcini slices.
Step 5
Remove string. Bake pizza for 10-12 minutes. Remove from oven and slice into quarters.
Step 6
Remove two pieces of the crust from each slice, leaving the middle section intact to represent the tree trunk.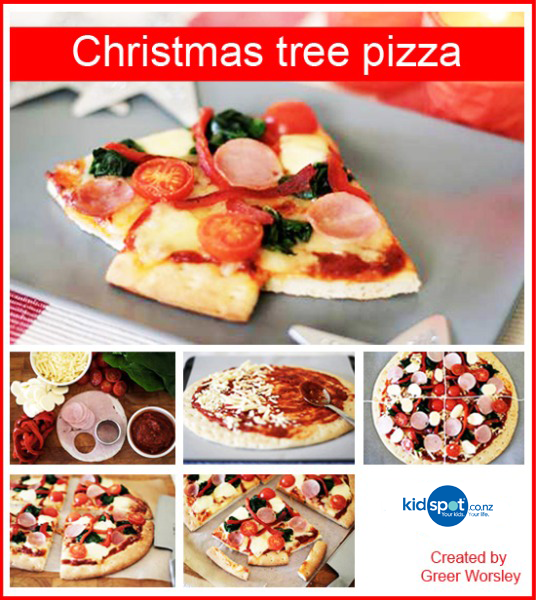 Related Christmas recipes:
Serving Suggestions
Note
This recipe makes one regular pizza. Increase the quantities if you're making more.
Blanching the spinach first prevents it from going dry in the oven.
Recipe by Greer Worsley, who blogs at Typically Red.