Frozen banana bites
Serves:
Ingredients
4 bananas
200g dark chocolate melts
1/4 cup smooth peanut butter
Sprinkles: coconut flakes, coated choc-chips, cachous
Method
Step 1. Line a baking tray with baking paper and set aside. Cut each banana into 6 pieces.
Step 2. Melt the chocolate. Stir the peanut butter into the chocolate until well combined.
Step 3. Dip each banana piece into the chocolate mixture, tap off excess and place on the baking tray.
Step 4. Top with sprinkles and place in the freezer for 30 minutes or until frozen.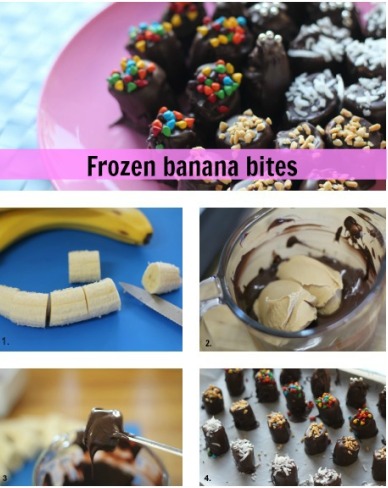 Notes:
This recipe makes 24 pieces. You can make this recipe with milk or white chocolate if you prefer.
I used smooth peanut butter but crunchy will work too.
Decorate these with your favourite toppings like crushed nuts, 100's and 1000's or other sprinkles.
Please take care when serving these to guests. It is not immediately apparent that this recipe contains peanut butter so you will need to take care that you don't give these to anyone with a peanut allergy.
This recipe was created by Jennifer Cheung for Kidspot, New Zealand's best recipe finder.
Find more frozen treat recipes:
Serving Suggestions
Note