Autumn archery
After an addictive game for kids this autumn? This one will entertain 'em for hours! While some kids love their fruit and veggies, others will happily see them pinned on a tree – a much better use! Autumn archery is fast-paced fun!
What you need:
computer with internet access
Number of players:
Activity:
Click here to begin your game.
You will come to the opening page of the game.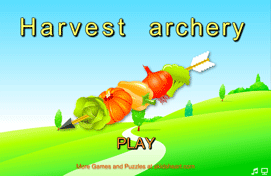 Click PLAY and you will be taken through to begin level one.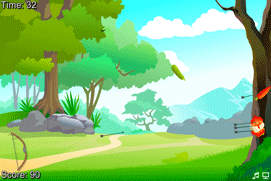 Each level has a 60 second time limit.
Your bow is located in the bottom left of the screen and a large tree is to the right.
All fruits and vegetables are tossed up between the arrow and the tree.
Your aim is to pin as many to the tree with your arrows as possible.
You may think this is easy at first – and why wouldn't you? It's pretty slow! Each level gets more difficult and it soon becomes clear that this is not a game of luck but one of skill and timing.
Find inspiring kids' craft ideas
Find paper craft ideas: