Christmas rocky road bites
Serves:
Ingredients
mini-muffin patty pans
200g marshmallows, chopped
½ cup desiccated coconut
¼ cup peanuts
2 x 76g Turkish delight bars, diced
600g milk chocolate
cachous (silver edible balls)
Method
Step 1. Gather ingredients and line 2 x 24 cup mini-muffin pans with patty pans.
Step 2. In a bowl, mix the marshmallows, coconut, peanuts and Turkish delight together.
Step 3. Melt the chocolate and pour over the marshmallow mixture. Combine well so that everything is coated well in chocolate.
Step 4. Using two teaspoons, fill each patty pan until all the mixture is used. This mixture will make 36 bites. Sprinkle 3-4 cachous over each bite and refrigerate until set.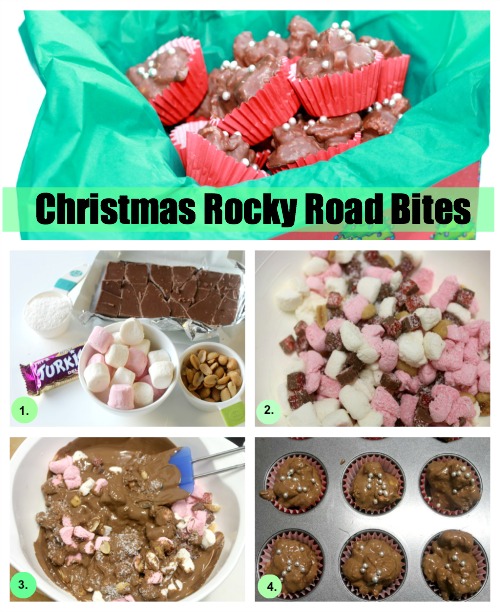 Notes:
THIS RECIPE CONTAINS PEANUTS. Please be aware if you have friends or family with nut allergies that this is not suitable to give or consume around them and it is definitely not a good idea to gift at school.
Pink and white Pascall marshmallows were used for this recipe but you could use mini-marshmallows instead.
This recipe was created by Jennifer Cheung for Kidspot, New Zealand's best recipe finder.
Related Christmas recipes:
Serving Suggestions
Note