Soccer field birthday cake
Ingredients
4 x 340g pkt vanilla cakes
4 x eggs
4 x cup of milk
Butter for greasing cake pan
Icing
Meadow Lea or 250g softened butter
4 cups soft icing mixture
1 cup of cocoa
half a cup milk
Decoration
1 cup desiccated coconut
2 tsp green food colouring
1 can of soft frosting in white.
Drinking straws
Method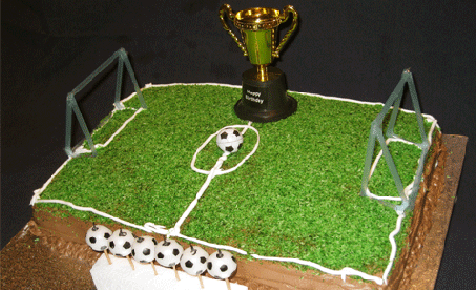 Preheat oven to 180C (or 160C for fan forced).
Grease baking pan and line with baking paper (this is the one I roast lamb and vegies in).
Prepare cake batter as per packet directions preparing two at a time and pour all together into baking tin.
Bake at 180C for 40 -45 mins.
Check with a skewer at the 35 min mark. If the skewer comes out clean remove from oven.
Cool cake and level the top with a sharp serrated knife.
Turn upside down on cake board or foil lined tray.
Icing
Using an electric beater cream butter until light, pale and fluffy. Slowly adding sifted icing sugar and cocoa. Add the milk a tablespoon at a time until you reach desired the consistency. Cover cooled cake with a generous coating of icing.
Decoration
Pour food colouring into coconut and stir until all the coconut has been coloured. Slide baking paper around the edges of the cake and gently shake a generous amount of coconut over the top. Remove paper with excess coconut and discard. Outline the shape of the soccer field with a tube of prepared icing, marking halfway and goal posts. Fashion some goal posts from straws and clear sticky tape.
Notes:
You could, of course, turn this into a netball, rugby or football field.
This is the perfect birthday cake for a mum who has all the desire for a whiz-bang cake without much of the skill!
This recipe was created by Jennifer Cheung for Kidspot, New Zealand's best recipe finder.