Cubby ideas for kids
What you need:
Number of players:
Activity:
Picture this: It's a rainy Sunday afternoon. The kids are bouncing off the walls like little caged tigers. They have already watched a DVD, helped you bake chocolate-chip cookies and played hide and seek. You've run out of ideas to entertain them. You jump onto the Kidspot website to get some inspiration and you stumble across this article on building indoor cubbies, pillow forts and play houses. You breathe a deep sigh of relief, one that you are sure the neighbours can hear, as your realise that your afternoon (and your sanity) has been saved!!
For rainy day indoor creative play, there's nothing quite like building your own cubby house. It's a tried and tested way to keep the kids entertained for hours. Here are some fail-safe ways to get you started:
Cool cubby idea – Basic cubby
Perfect for the younger cubby enthusiast, an 'under the table' cubby is sturdy, has no chance of collapsing and can be constructed in a matter of seconds. Put an old sheet over your dining room table, one that is big enough to drape down to the floor on all four sides. Place something heavy on top of the table so the sheet does not slide. Kids can crawl in and out from under the sheet or you can cut a door flap and some window flaps. For added pizzazz invest in some fabric paints and allow the kids to wallpaper their new pad!
Cool cubby idea – Cardboard cubby
For a more structured cubby, why not try crafting a cardboard cubby house out of an old box. The beauty of this type of cubby is that the kids can go to town decorating their new play space. So, break out the craft box, crack open the paints, unleash the stickers, pencils, crayons and textas and let your kids adorn the walls of their cardboard cubby in whatever way they wish. Little artists and craft-living kids will think all of their Christmases have come at once!
Cool cubby idea – Newspaper cubby
Recycle your old newspapers and entertain the kids all in one hit, with a newspaper cubby house. Get the whole family involved and design and build a house with as many rooms as you want. This is a great activity to encourage your kids' imaginations and an excellent team building exercise. Watch those little faces light up as you transform a boring old room into a newspaper grotto that they will never want to leave.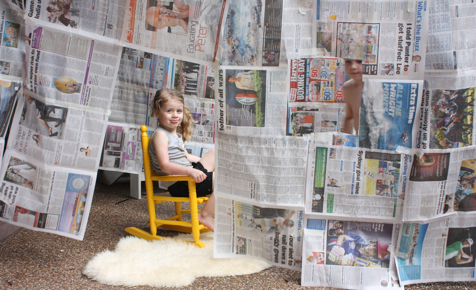 Cool cubby idea – Tunnel cubby
Adventure-loving kids can take cubby making to a whole new level by building dark and winding tunnels from one room to another. Using a series of chairs placed back-to-back, create a path from one bedroom to another, or from the kids' bedrooms to the playroom. Throw some dark, heavy blankets over the top of the chairs and abracadabra; your cavernous tunnel awaits! For a more realistic 'tunnelling' experience you can create a makeshift headlamp for your little explorers by attaching a torch to a cap or hat.
Cool cubby idea – Indoor teepee
What amps up the fun factor of a normal cubby? Building an indoor teepee of course. With a few basics like some sturdy poles, a few pegs and a good blanket – you can set up a secret cubby hideaway that will keep kids happily occupied for hours. Pop in a torch, some pillows and a few soft toys, and your kids may even want to sleep in there. A great way to while away the time on a gloomy, rainy day.
Cool cubby idea – Pillow fort
There are few cubby ideas cooler than building a fort out of pillows. Whether your kids build their fort pillow cubby low and sturdy, or high and teetering – either way your kids will love it. Plus they'll learn basic building and balance skills. You can even encourage your kids to set up cubby forts across from each other and watch the soft toys fly as they battle it out! But mums, rest assured – no matter what kind of active play happens in a pillow fort, your kids will be softly cushioned.
Cool cubby idea – Homemade tent
A great place to play isn't limited to a cubby – building a homemade tent creates a fab play place for kids. There's no need for difficult assembly, tent pegs (gah!) or hours of set up time. You can make a homemade tent with a few sheets, a bit of string and and a couple of pegs. Voila! You've got a portable play area that can go anywhere. Inside or outside, this homemade tent is super fun for kids (no camping equipment necessary).