Traffic sign colouring pages for kids: Hold hands sign
Next time you're out for a walk with the kids, teach them about what the different road signs mean and why they're there. This activity will remind children that the signs they see everywhere around them have meaning. Get kids to colour in these free printables.
What you need:
computer with internet access
printer
paper
colouring pencils and markers
Number of players:
Activity:
Teach children about the different road and traffic signs and what each of them means. By letting them colour in these free printables they are more likely to remember them and pay attention to their warnings.
This sign is mostly used as a reminder for parents and carers that it's important to hold hands while crossing the roads, this sign also serves another purpose. It'll remind your little one that it's important to hold hands, no matter how big they're getting!
Print this traffic sign for kids to colour in.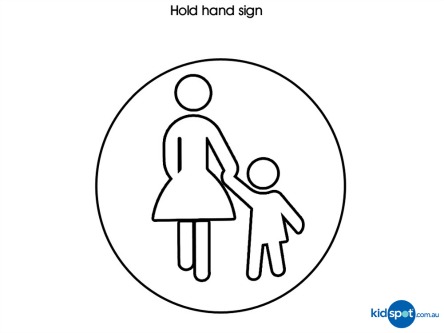 Find more traffic signs for kids to colour in:
Find great painting ideas on Kidspot:
Learning benefits of play, craft and activities: