For the fifth year in a row, Oliver is the most popular name chosen for newborn baby boys in New Zealand. In 2017, 314 Kiwi families chose the name which, according to Kidspot's Baby Name Finder, is related to the olive tree and can mean a symbol of peace. The girls have a new leader, with 277 babies named Charlotte – no doubt growing in popularity due to the Royal Family's adorable Princess Charlotte. Over 13,000 different names were chosen for newborn babies in New Zealand in 2017.
Most popular names in 2017
While parents are choosing a wider range of names for their children than in the past, a lot of names still remain popular, year after year. Statistics released by the Department of Internal Affairs show that the most popular boys' names in 2017 were Oliver, Jack, Noah, William, Hunter, James, George, Mason, Lucas and Arlo. George and Arlo are the only newcomers to the top 10.
For girls, the most popular were Charlotte, Harper, Isla, Olivia, Ava, Amelia, Mia, Mila, Sophie and Emily. Mila is the only new entrant to the top 10.
Want to know what the most popular names were in the year your baby was born (or even yourself)? Pop over to the SmartStart website to go right back to 1954.
Most popular names for mum and dad
OK, there's no real science involved here – more like a bit of curious guesswork! Currently the average age of a mother when their first baby is born is about 30 years old. The average for a father is around 32 years. So looking back to 1987 and 1985, the time when today's new parents were born, we can see what the most popular names were. Apart from James, it doesn't look like these new parents are passing on their own names to their offspring.
Most popular baby girl names in 1987:
Sarah
Jessica
Emma
Amanda
Nicole
Most popular baby boy names in 1985:
Daniel
Michael
James
Matthew
Christopher
A century of baby names
Way back in 1915, the most popular names for baby boys were John, William and James – two of which are still popular today. On the other hand, popular choices for girls a century ago – Mary, Margaret and Dorothy – are rarely heard now.
In 1965, just over half a century ago, the most popular names were Karen, Susan and Sandra for girls and David, Michael and Paul for boys.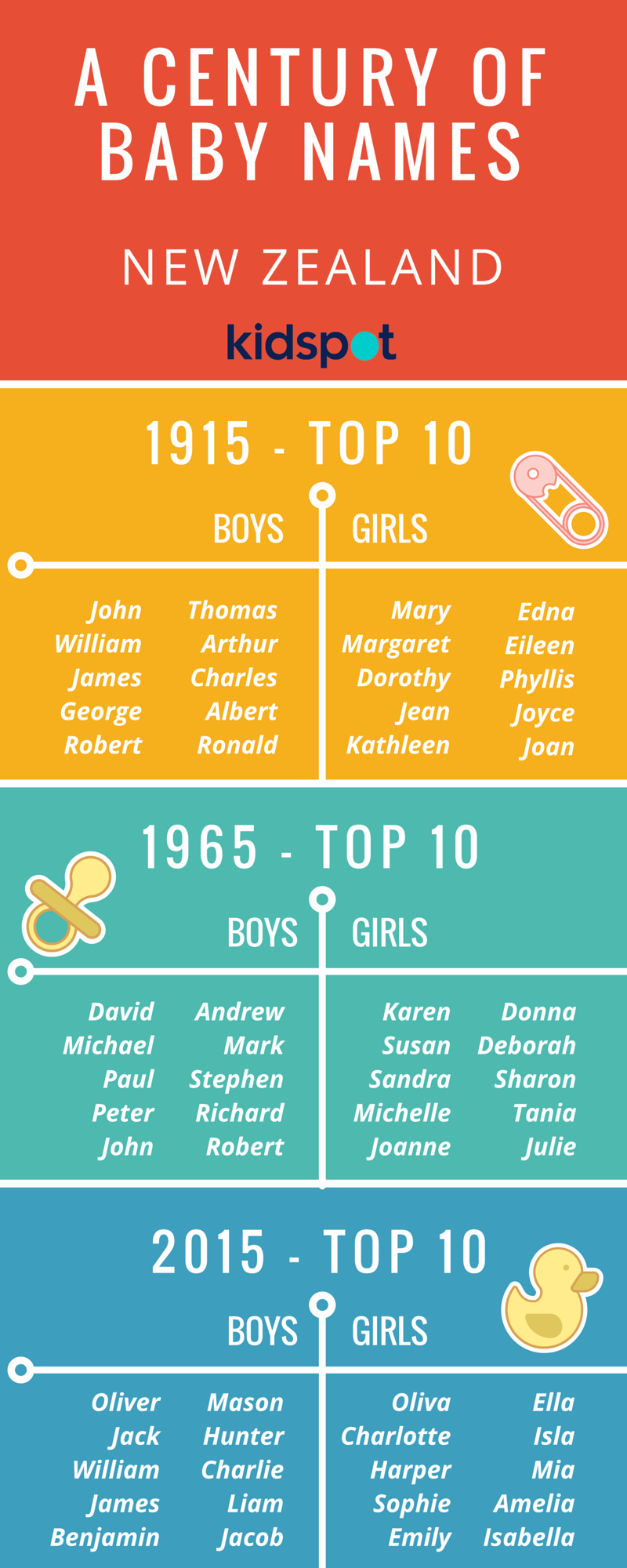 New Zealand's 100 most popular baby names in 2017
| | | |
| --- | --- | --- |
| Rank | Boys | Girls |
| 1 | Oliver | Charlotte |
| 2 | Jack | Harper |
| 3 | Noah | Isla |
| 4 | William | Olivia |
| 5 | Hunter | Ava |
| 6 | James | Amelia |
| 7 | George | Mia |
| 8 | Mason | Mila |
| 9 | Lucas | Sophie |
| 10 | Arlo | Emily |
| 11 | Leo | Isabella |
| 12 | Liam | Ella |
| 13 | Max | Lucy |
| 14 | Thomas | Ruby |
| 15 | Charlie | Lily |
| 16 | Cooper | Chloe |
| 17 | Benjamin | Zoe |
| 18 | Elijah | Emma |
| 19 | Henry | Grace |
| 20 | Joshua | Aria |
| 21 | Lachlan | Willow |
| 22 | Oscar | Georgia |
| 23 | Ethan | Sophia |
| 24 | Alexander | Evelyn |
| 25 | Samuel | Hazel |
| 26 | Carter | Eva |
| 27 | Jacob | Scarlett |
| 28 | Jackson | Ivy |
| 29 | Finn | Indie |
| 30 | Isaac | Madison |
| 31 | Daniel | Isabelle |
| 32 | Theodore | Alice |
| 33 | Luke | Matilda |
| 34 | Harrison | Mackenzie |
| 35 | Harry | Evie |
| 36 | Blake | Thea |
| 37 | Levi | Zara |
| 38 | Archie | Hannah |
| 39 | Eli | Stella |
| 40 | Ryan | Layla |
| 41 | Riley | Ayla |
| 42 | Lincoln | Sienna |
| 43 | Logan | Paige |
| 44 | Luca | Maddison |
| 45 | Austin | Millie |
| 46 | Archer | Bella |
| 47 | Hugo | Poppy |
| 48 | Xavier | Frankie |
| 49 | Theo | Riley |
| 50 | Caleb | Maia |
| 51 | Joseph | Florence |
| 52 | Aiden | Piper |
| 53 | Jordan | Phoebe |
| 54 | Connor | Abigail |
| 55 | Beau | Eden |
| 56 | Ezra | Freya |
| 57 | Michael | Addison |
| 58 | Toby | Ellie |
| 59 | Jayden | Quinn |
| 60 | Hudson | Olive |
| 61 | Nathan | Sofia |
| 62 | Felix | Violet |
| 63 | Harvey | Lilly |
| 64 | Edward | Sadie |
| 65 | Ryder | Pippa |
| 66 | Zachary | Penelope |
| 67 | Braxton | Aurora |
| 68 | Flynn | Jasmine |
| 69 | Dylan | Aaliyah |
| 70 | Asher | Peyton |
| 71 | Ashton | Victoria |
| 72 | Arthur | Summer |
| 73 | Sebastian | Zoey |
| 74 | Jaxon | Luna |
| 75 | Beauden | Charlie |
| 76 | Charles | Rose |
| 77 | Bodhi | Leah |
| 78 | Grayson | Keira |
| 79 | Tyler | Eleanor |
| 80 | John | Anna |
| 81 | Matthew | Jessica |
| 82 | Gabriel | Emilia |
| 83 | David | Elizabeth |
| 84 | Patrick | Harriet |
| 85 | Leon | Molly |
| 86 | Kingston | Heidi |
| 87 | Reuben | Amaia |
| 88 | Phoenix | Nina |
| 89 | Angus | Amber |
| 90 | Louis | Annabelle |
| 91 | Owen | Maya |
| 92 | Jasper | Lola |
| 93 | Wyatt | Brooklyn |
| 94 | Roman | Sarah |
| 95 | Nixon | Arabella |
| 96 | Jake | Skylar |
| 97 | Adam | Madeline |
| 98 | Spencer | Faith |
| 99 | Jesse | Holly |
| 100 | Cohen | Clara |