Christmas wreaths don't have to scream Christmas! Get creative and make something to suit your theme or colourway. Depending on the style you choose, you might even get away with using them on special occasions like weddings and christenings.
You'll need
A foam wreath from Spotlight/Lincraft or discount craft store
A hot glue gun
An assortment of buttons in a colourway of your choice
Ribbons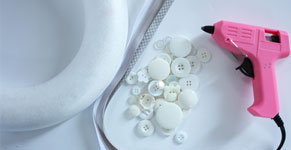 glue gun, ribbon, buttons and foam wreath
Step one
Randomly glue the buttons onto the foam wreath going inside it slightly as well as on the outside to cover it entirely. You'll need to work quickly as the glue dries fast – it's best to space out the large sizes and the most decorative and fill the rest with a mix of small and medium-sized buttons, placing them close together so there are minimal gaps.
Step two
Once done, tie ribbons around the top and loop them several times, gluing the loops in place until you have a flower. Tie one more piece of ribbon around the top of the wreath behind the ribbon flower and use that to hang.
Also try
Shells for a beachy theme
Sequins for a glam style
Natural pods, seeds or dried flowers and leaves for an earthy theme.