Make your own Instagram magnets
While this gets a little tech heavy on Photoshop, there are still bits in here for the kids, so why not work together to make some great image magnets for the family fridge or even as presents at Christmas time!
What you need:
laser/inkjet/copier labels A4
magnet tape or re-use your old promotional magnets (1 inch wide is best suited to activity)
computer with internet access
printer
access to photoshop
rotary cutter, guillotine or scissors
Number of players:
Activity:
Step 1. Gather your supplies.
Step 2. Open up Westagram in your browser. Here you will need a screen shot image that you would like to magnetise. You could use a computer image, but these will later require resizing.
Step 3. Open Photoshop and create a new A4 sized canvas.
Step 4. With your move tool selected, drag each of the guides out to 1 inch wide (or whatever size image you need).
Step 5. Open all of your screen shot images and select "tile all in grid". This will allow for easy drag and drop of your images onto your A4 canvas.
Step 6. Using your move tool, drag and drop each image onto the A4 canvas. You can just roughly position them at this point.
Step 7. With your A4 canvas active, you should elect to "consolidate all".
Step 8. Begin to transform the images so they fit within your guidelines.
Step 9. Position your images so they "kiss" each other. This is to make your life easier when you are cutting them down. Make sure you have the auto select box checked so you can just move the images around on your canvas without having to negotiate the individual layers.
Step 10. Once you are happy with your postitioning, print the label.
Step 11. Using your rotary cutter, cut the label into strips.
Step 12. Now, you have some sticker strips of instagram images.
Step 13. Cut your magnetic tape to length.
Step 14. Separate the backing from the sticker.
Step 15. Carefully place the sticker onto the magnetic strip.
Step 16. Cut the magnetic strip according to your images.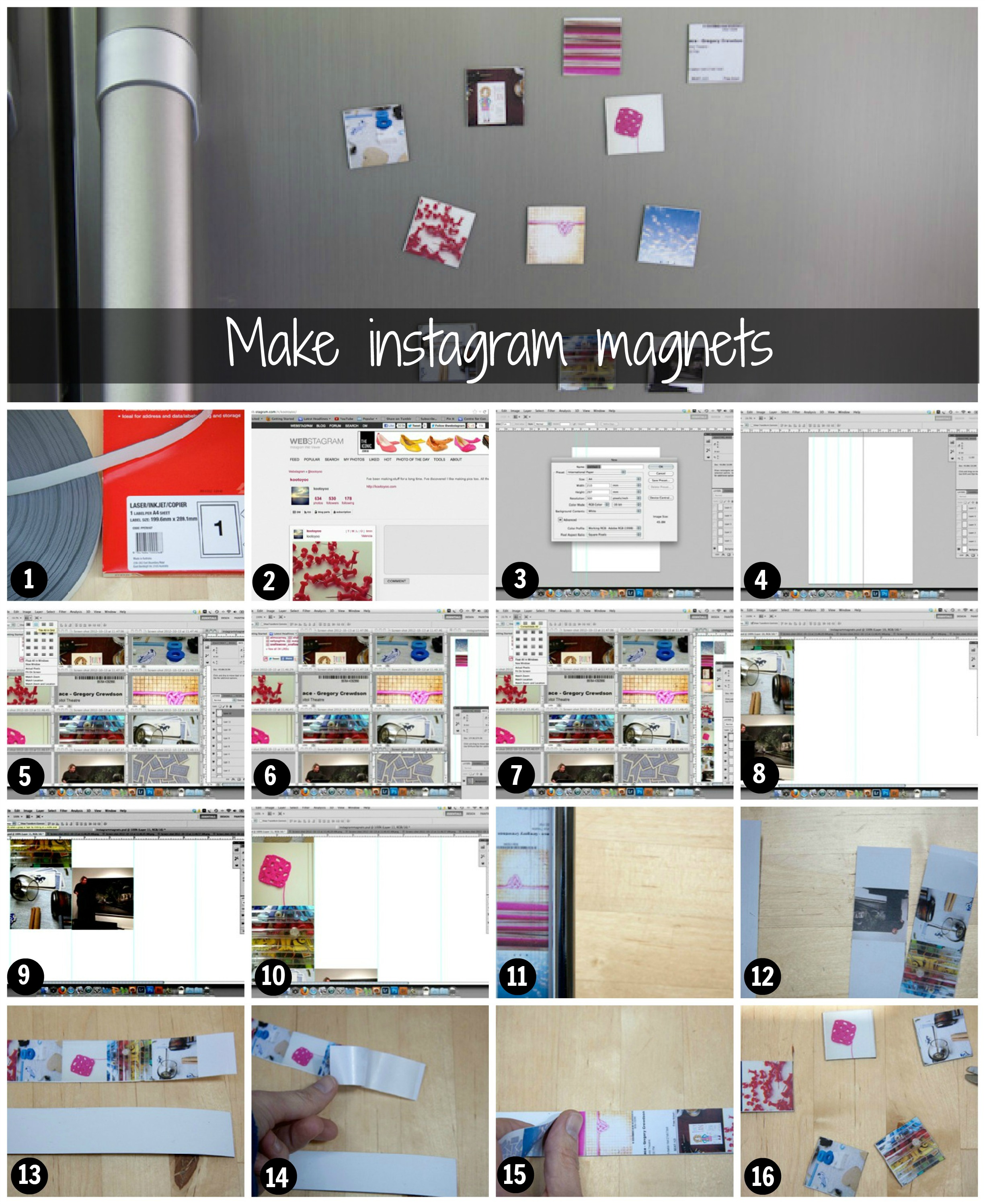 This craft was created by Kootoyoo.