12
Ingredients
4 cups (1L) thickened cream, whipped
1 cup (250ml) milk
3 pkts (205g each) Oreo cookies, original
Method
Step 1. Using a large dish (30cm x 22cm), spread one third of the cream on the base of the dish.
Step 2. Dip cookies one at a time into the milk and place on the cream layer.
Step 3. Top with one third of the cream again and add another layer of milk-dipped cookies.
Step 4. Top with the remaining cream and place undipped cookies on top to decorate. Refrigerate for 4 hours.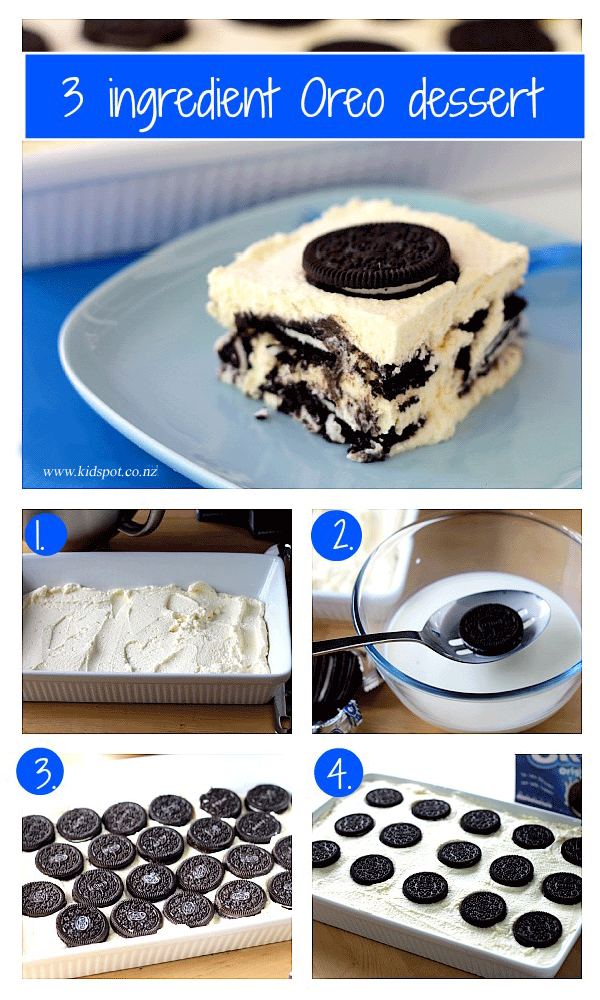 You have to dip the cookies in the milk for a few seconds to let them soak in the milk. I usually throw one into the milk as I am taking one out to give it a few seconds. Using a slotted spoon is helpful.
The refrigeration time allows the cookies to soften and create a creamy, chocolatey dessert.
We used Original Oreo cookies but you can choose your favourite Oreo variety.
If you are looking for a really naughty Oreo recipe then try these Deep fried Oreos. They have a gooey melted centre with a delicious crispy coating.
This Oreo bark uses crushed up Oreo cookies for a super cookies-and-cream flavour.
Did you know that you can make Oreo cookies at home? These Homemade Oreo cookies are large and packed full of flavour.
You can make these Halloween jelly worms and lay them on a bed of crushed Oreo to look like dirt.
You can make these Easy Oreo truffles to give as gifts or just as an afternoon treat.
These Oreo cookie pops are a delightful kids cooking activity for little ones.
This Oreo cheesecake slice has a delicious Oreo base with a cookies and cream topping.
We have used Oreo cookies for these Princess Leia cupcakes to create her signature hairstyle.
This recipe was created by Jennifer Cheung for Kidspot, New Zealand's best recipe finder.