Blueberry Banana & Apple Buckwheat Pancakes
Serves: 10 mini pancakes
Ingredients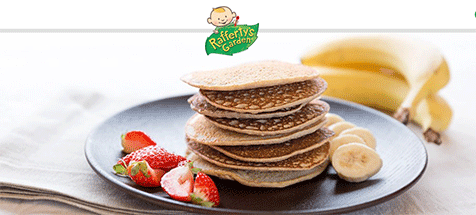 Pancake Batter
1 cup of buckwheat flour
1/4 tsp. baking powder
1 cup milk (for a dairy alternative use coconut, almond or your choice)
1/2 tsp. vanilla extract
1tsp cinnamon, ground
1 pouch of Rafferty Blueberry Banana and Apple Puree
1 tbsp. butter, for cooking
Method
Step 1
Combine flour and baking powder in a bowl and mix well.
Step 2
Add the Rafferty's Garden Blueberry Banana and Apple Puree, and milk. Mix into a batter consistency
Step 3
Melt butter or coconut oil over medium heat, spoon batter in pan and flip pancakes once one side is cooked
Step 4
Top pancakes with yoghurt and strawberries
Serving Suggestions
Note
Suitable for babies from 6 months.