Italian wonderpot
Serves:
Ingredients
350g dried fettuccine pasta
1 medium brown onion, sliced into segments
3 cups baby spinach leaves
1 tin (400g) diced tomatoes
1 tbsp Italian herb mix
5 cups (1.25L) water
2 pods Continental vegetable stock concentrate
100g feta cheese, crumbled
Method
Step 1. Gather all ingredients together.
Step 2. Place all ingredient into a pot except for the feta cheese. Cover and bring to the boil. Remove the lid and reduce heat to medium. Continue to cook for 10 minutes or until the pasta is softened and all of the liquid is reduced to a creamy sauce.
Step 3. Add crumbled feta to the pan and stir.
Step 4. Serve.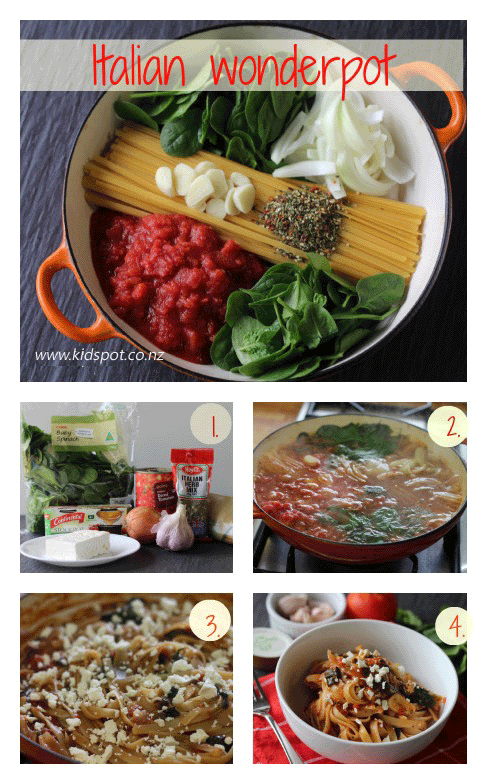 The starch from the pasta gives this pasta a creamy finish even before you add the feta cheese.
If you can't get the vegetable stock concentrate just use 5 cups (1.25L) vegetable stock in place of the water and concentrate.
If you want to save money you can use chopped frozen spinach in this recipe instead of the baby spinach. You can even add it to the pot frozen.
This recipe was created by Jennifer Cheung for Kidspot, New Zealand's best recipe finder.
Find related Italian recipes:
Serving Suggestions
Note