Nutty orange cake
Serves:
Ingredients
1 1/2 cups walnuts, hazelnuts, almonds (or a combination of all three)
1 cup plain flour
1 tbsp baking powder
4 eggs
1 1/2 cups caster sugar
1/2 cup fresh orange juice
1 tbsp orange zest, plus extra for serving
1/2 cup olive oil
icing sugar to serve
Method
Step 1: Preheat oven to 180°C or 160°C fan-forced. Grease a 24cm cake tin and line the base and sides with baking paper. In the bowl of a food processor, pulse the nuts until finely chopped.
Step 2: Add the flour and baking powder and pulse a few times to combine. Transfer this dry mixture to a bowl.
Step 3: Crack eggs, add to the bowl of the food processor and whip them until frothy. Add the sugar gradually and continue mixing until pale and thick.
Step 4: Return the walnut and flour mixture and pulse to combine.
Step 5: Finally, add juice, zest and oil, and pulse again.
Step 6: Pour into prepared tin and bake for 55 minutes or until a skewer inserted into the centre comes out clean. Serve dusted with icing sugar and a little extra orange zest or some peeled orange segments.
 Notes:
When serving, some peeled orange segments look great arranged on top of the cake.
Turn the cake into dessert by serving it with some whipped cream spiked with finely grated orange peel.
Recipe by Greer Worsley, a working mum whose desire to make and bake things has grown in inverse proportion to the amount of spare time she has since her three gorgeous girls came along.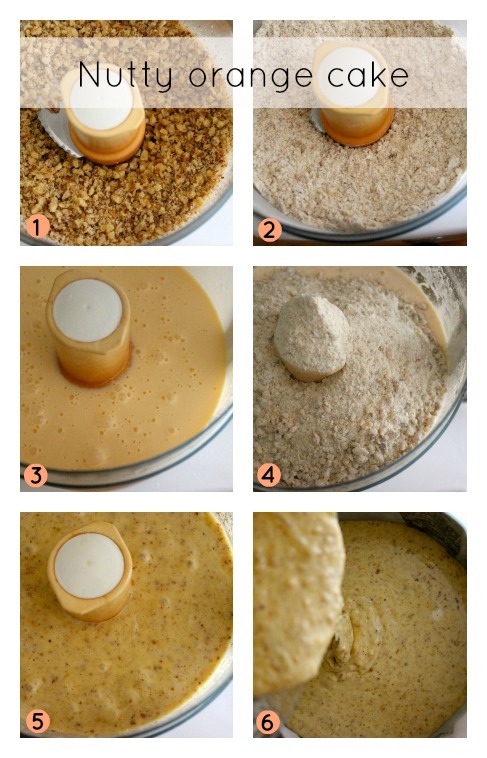 Find related cake recipes
Serving Suggestions
Note