6-12 popsicles
Ingredients
1 cup peach slices in fruit juice
1 cup pineapple pieces in juice
1/2 cup coconut cream
You will also need:
popsicle moulds (we used Zoku Fish pops)
Method
Step 1. Gather all ingredients and popsicle moulds.
Step 2. Place all ingredients into a blender and blend until smooth.
Step 3. Pour mixture into popsicle moulds and place in popsicle sticks.
Step 4. Freeze for 4-6 hours or overnight.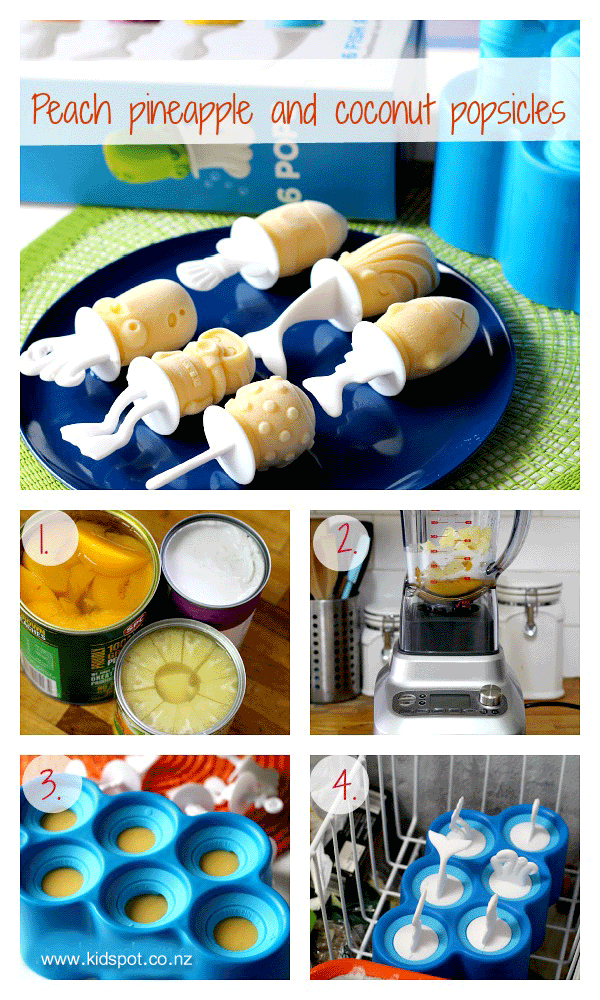 Of course you could use fresh fruit in this recipe but you may have to add a little extra fruit juice to have a pour-able consistency.
If you are worried about the coconut cream being too rich you can use coconut milk or even coconut water in its place but the flavours will be less concentrated.
We used the Breville Boss blender on smoothie setting to whizz these up but you could also use stick blender or food processor.
You can buy Zoku fish pops at all good kitchen stores or online.
These Nutella popsicles are our most popular popsicle. They taste a little like a Paddle Pop with a hint of hazelnuts.
These Tropical fruit popsicles are a taste of the tropics too. Make them up and hand them out on a hot day.
You can make these Yoghurt popsicles to get an extra serve of dairy into your little one's diet.
These Creamy orange popsicles are great for an after-school snack.
This recipe was created by Jennifer Cheung for Kidspot, New Zealand's best recipe finder.