Very Hungry Caterpillar fruit stamps
Bring one of the all-time favourite books to life with a little paint and fruit and the kids will be in stamping heaven! A good way to learn colours and numbers too.
What you need:
Paints
Fruit from the story – apple, pear, plum, strawberry and orange
A chopping board
Knife
Paper plate
Plastic eyes
Also: an old egg container for the paint; paintbrush; paper or cardboard
Number of players:
Activity:
Step 1: Cut the fruit in half and choose the best side to represent the traditional shape of each fruit. You might need to sacrifice the other side of the plum because of the stone.
Step 2: On paper plates, mix up the colours required.
Step 3: Rub the fruit into the appropriate paint colour so the whole inside is covered in paint.
Step 4: Press the fruit into a piece of paper or cardboard – you will likely need to "re-ink". Stamp in a pyramid shape with in the same sequence as the story. ie, the caterpillar takes a bit from one apple; two pears etc…
Step 5: Finish by creating the hungry caterpillar – have the child use their finger to stamp the caterpillar's body in green paint, then his head in read. Stick the eyes onto the head while the paint is wet and draw on some feet later. The child can then also add the appropriate numbers once the paint has dried.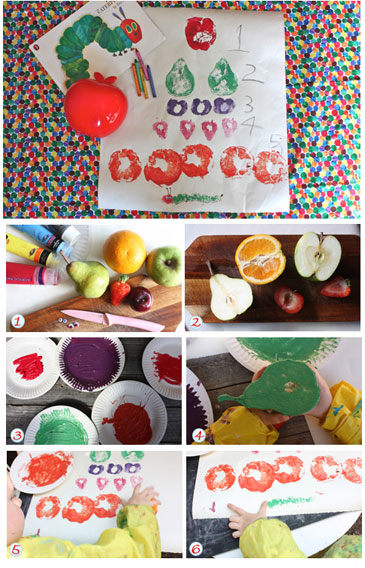 This craft was created by Belinda Graham, who blogs at The Happy Home Blog.