In 2016, parents in New Zealand chose over 18,000 different names for their newborn babies. That's around 30% more names than during 2015! Half a century ago, the most popular boys' name (David) was given to 1,139 babies – almost three times as many as the current favourite, despite an increased number of babies being born. Twenty years ago, the most popular choices, Joshua and Jessica, were selected around twice as often as the number one names in 2016.
Most popular names in 2016
While a greater number of parents are choosing unique names for their children, a lot of names still remain popular, year after year. Statistics released by the Department of Internal Affairs show that the most popular boys' names in 2016 were Oliver, Jack, William, Mason and James. Noah, Lucas, Leo and Max moved into the top 10 last year. For girls, the most popular were Olivia, Charlotte, Isla, Harper and Ella. Ava is the only new entrant to the top 10.
332 babies were named Oliver in 2016. According to Kidspot's Baby Name Finder, the meaning of Oliver is related to the olive tree and can mean a symbol of peace.
266 babies were named Olivia in 2016 – a feminine form of the name Oliver, according to Kidspot's Baby Name Finder.
Want to know what the most popular names were in the year your baby was born (or even yourself)? Pop over to the SmartStart website to go right back to 1954.
A century of baby names
Way back in 1915, the most popular names for baby boys were John, William and James – two of which are still popular today. On the other hand, popular choices for girls a century ago – Mary, Margaret and Dorothy – are rarely heard now.
In 1965, just over half a century ago, the most popular names were Karen, Susan and Sandra for girls and David, Michael and Paul for boys.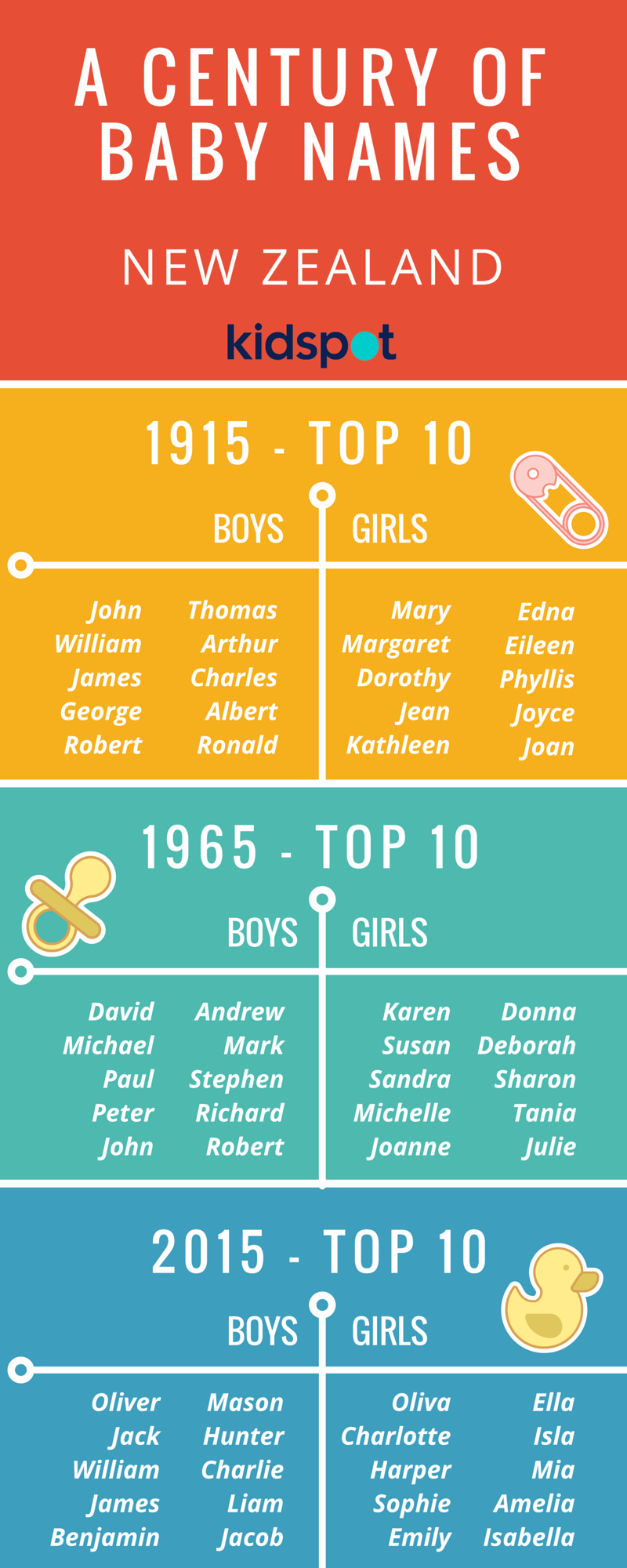 New Zealand's 100 most popular baby names in 2016
| | | |
| --- | --- | --- |
| Rank | Boys | Girls |
| 1 | Oliver | Olivia |
| 2 | Jack | Charlotte |
| 3 | William | Isla |
| 4 | Mason | Harper |
| 5 | James | Ella |
| 6 | Hunter | Amelia |
| 7 | Noah | Emily |
| 8 | Lucas | Mia |
| 9 | Leo | Sophie |
| 10 | Max | Ava |
| 11 | Liam | Ruby |
| 12 | George | Lily |
| 13 | Thomas | Isabella |
| 14 | Charlie | Chloe |
| 15 | Cooper | Mila |
| 16 | Ryan | Zoe |
| 17 | Ethan | Lucy |
| 18 | Benjamin | Grace |
| 19 | Samuel | Aria |
| 20 | Blake | Georgia |
| 21 | Lachlan | Evelyn |
| 22 | Carter | Sophia |
| 23 | Arlo | Eva |
| 24 | Jackson | Matilda |
| 25 | Jacob | Willow |
| 26 | Henry | Emma |
| 27 | Elijah | Hannah |
| 28 | Joshua | Hazel |
| 29 | Connor | Scarlett |
| 30 | Daniel | Evie |
| 31 | Alexander | Ivy |
| 32 | Levi | Sienna |
| 33 | Luke | Layla |
| 34 | Finn | Alice |
| 35 | Isaac | Maddison |
| 36 | Archie | Mackenzie |
| 37 | Eli | Maia |
| 38 | Luca | Zara |
| 39 | Oscar | Millie |
| 40 | Harrison | Madison |
| 41 | Austin | Stella |
| 42 | Riley | Paige |
| 43 | Nathan | Piper |
| 44 | Matthew | Violet |
| 45 | Harry | Indie |
| 46 | Lincoln | Isabelle |
| 47 | Joseph | Quinn |
| 48 | Beau | Lilly |
| 49 | Tyler | Thea |
| 50 | Logan | Jessica |
| 51 | Michael | Riley |
| 52 | Felix | Ayla |
| 53 | Toby | Alexis |
| 54 | Hugo | Eden |
| 55 | Jayden | Abigail |
| 56 | Jaxon | Aaliyah |
| 57 | Aiden | Olive |
| 58 | Archer | Bella |
| 59 | Theodore | Ellie |
| 60 | Xavier | Summer |
| 61 | Sebastian | Amber |
| 62 | Theo | Poppy |
| 63 | Caleb | Peyton |
| 64 | Ryder | Nina |
| 65 | Dylan | Freya |
| 66 | Ezra | Penelope |
| 67 | Roman | Harriet |
| 68 | Jordan | Sarah |
| 69 | Jasper | Florence |
| 70 | Braxton | Holly |
| 71 | Flynn | Elizabeth |
| 72 | Angus | Sofia |
| 73 | Hudson | Frankie |
| 74 | Edward | Lola |
| 75 | Ashton | Anna |
| 76 | Asher | Phoebe |
| 77 | David | Aurora |
| 78 | Zachary | Maria |
| 79 | Quinn | Eleanor |
| 80 | Jake | Rose |
| 81 | Charles | Pippa |
| 82 | Louis | Jasmine |
| 83 | Adam | Taylor |
| 84 | Arthur | Leah |
| 85 | Leon | Isabel |
| 86 | Harvey | Lucia |
| 87 | John | Zoey |
| 88 | Aaron | Heidi |
| 89 | Gabriel | Molly |
| 90 | Patrick | Faith |
| 91 | Grayson | Elsie |
| 92 | Kingston | Ariana |
| 93 | Fletcher | Brooklyn |
| 94 | Phoenix | Billie |
| 95 | Beauden | Charlie |
| 96 | Zion | Emilia |
| 97 | Alex | Victoria |
| 98 | Micah | Madeleine |
| 99 | Nixon | Hayley |
| 100 | Harley | Esther |
Read also: