Cranberry and choc biscuits
Serves:
Makes about 24 biscuits
Ingredients
1 cup (150g) plain flour
3/4 cup (170g) brown sugar
3/4 cup (60g) shredded coconut
3/4 cup dried cranberries
pinch salt
1 tsp mixed spice
1/2 cup chocolate buttons
1/2 cup (125g) butter
2 tbsp golden syrup
2 tbsp water
1 tsp bicarbonate soda
Method
Step 1. Preheat oven to 180°C (160°C fan-forced) and line a baking tray with paper. Combine the flour, sugar, coconut, cranberries, salt, spice and chocolate buttons in a large bowl and mix well.
Step 2. Place the butter, syrup and water in a small saucepan over medium heat. Stir and cook until the butter is completely melted. Remove from heat then stir in the bicarbonate of soda.
Step 3. Stir the butter mixture into the dry ingredients and mix to combine. Place tablespoons of the mixture, rolled into balls (about the size of a walnut shell) onto prepared tray and bake for 10-15 minutes or until golden brown.
Step 4. Let cool on a wire rack then store in an airtight jar or give away in bags.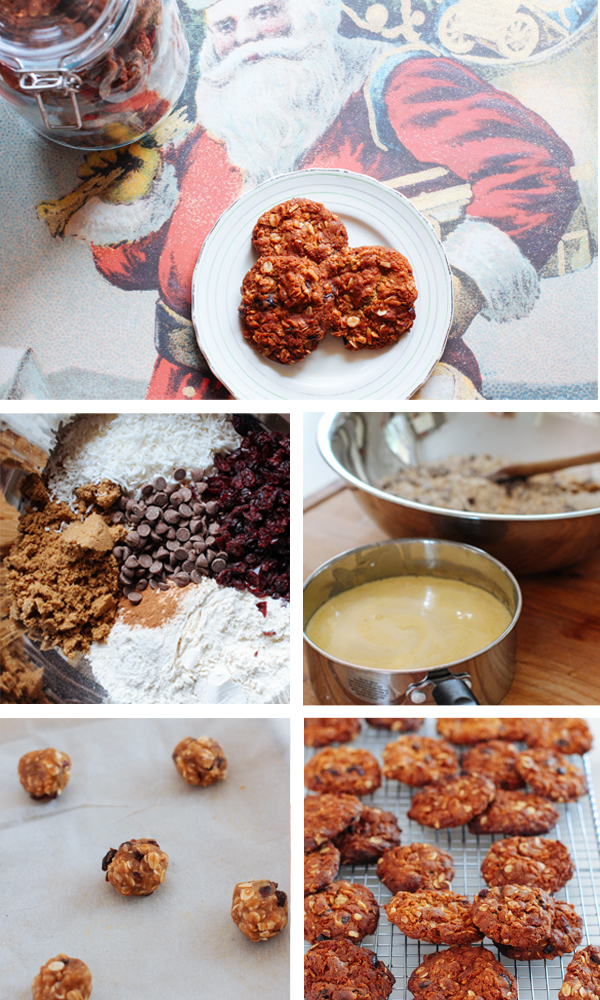 Serving Suggestions
Note
Swap dark chocolate for white or leave it out altogether!
You need to keep an eye on these in the oven. They can quite easily burn, depending on your oven.
These Anzac biscuits are the traditional recipe without the extras.
You can make these Christmas Royals for a delicious cheaty treat at Christmas.
These Coconut balls are a great gift giving idea. Just fill up a pretty jar with these and add some ribbon.
These Christmas tree cupcakes are a delicious take-along addition to any party and very easily shared with friends.
These Christmas snowflake biscuits are a lovely homemade gift for teachers and friends. They are decorated with pretty glitter decorations.
You can make these Christmas ginger joy biscuits and thread them on string like we have. They make a delicious Christmas garland.
This Fruit Christmas tree is a healthy alternative to all the indulgence of Christmas. It could be a beautiful edible centrepiece for your table.
You can make these Christmas chocolate spoons with the kids and enjoy some family time as you decorate them together.
If you like a round shortbread disc then this Christmas shortbread can be cut into "Petticoat tails" (triangles) and wrapped.
These little Meringue Christmas trees are dipped in chocolate and decorated with crunchy candy canes.
These sweet Christmas gingerbread reindeer are a delicious gift to bake and give at Christmas. You can place them in cellophane bags and tie with a ribbon.
This recipe was created by Sophie Hansen for Kidspot, New Zealand's best recipe finder: You can follow Sophie on Local is Lovely, Facebook, Twitter or Pinterest.