Ingredients
1 kg potatoes, peeled
1 tsp salt
2 tbsp (40g) butter
100ml milk
Method
Step 1. Gather all ingredients together.
Step 2. Cut potatoes into even-sized chunks. Place into saucepan and cover with water. Place over a high heat and bring to the boil. Reduce heat to low and add salt. Cook for 20 minutes.
Step 3. Remove from heat and drain. Leave uncovered for 2 minutes to let steam escape and dry out potatoes. Mash well and stir through butter and milk.
Step 4. Line a baking tray with baking paper. Take a 2/3 cup measure and pack full of mashed potato.Tap out onto the baking paper and repeat until all the mixture is used. Place into the freezer until frozen then place into a resealable bag until needed.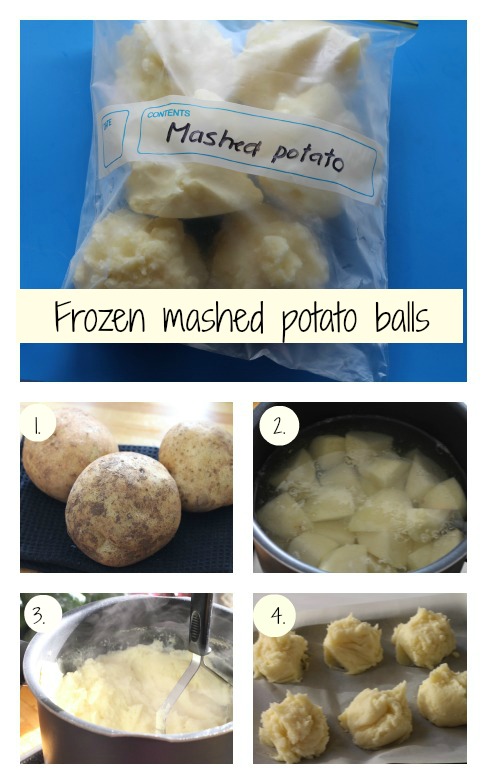 Find related potato recipes
You don't have to make a whole batch of these. Just place leftover mash on a plate in the freezer and then twist off and pop into a bag in the freezer for later.
These are perfect for kids that love a pie and mash!
To use just place in a glass bowl in the microwave on high for 3 minutes and stir.
I often drop these into soups and stews when I want to thicken them up and add vegetables.
Make sure you use the correct type of potatoes for mashing.
If you want to reduce the fat content in this recipe you can use a low-fat margarine and use chicken stock in place of the milk.
This recipe was created by Jennifer Cheung for Kidspot, New Zealand's best recipe finder.