Easy cinnamon and currant scrolls
Serves:
Ingredients
4 cups (600g) plain flour
1/2 cup (110g) sugar
1/2 tsp salt
1 tbsp dry yeast
100g butter, melted
400ml milk
2 eggs
Filling
75g butter, melted
1/4 cup sugar
1 1/2 tsp ground cinnamon
100g currants
1 egg, beaten, to glaze
Method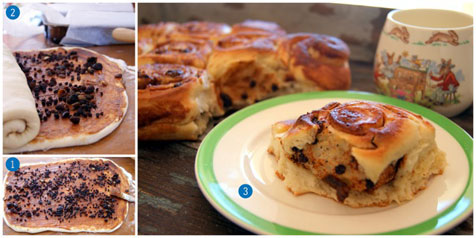 Line a 33x20cm baking tray with baking paper, letting the paper hang over all sides.
To make the dough, combine the flour, sugar, salt and yeast in a large bowl.
In a small bowl or jug, whisk the melted butter, milk and eggs to combine.
Add the egg mixture to the flour mixture and stir to combine.
Knead the dough for 8 minutes using the dough hook attachment on a standing mixture.
Form the dough into a ball, place it in an oiled bowl and cover with a clean tea towel. Leave the dough to rise in a draught-free place for 30 minutes.
Take a third of the dough and, using your fingers, press it into and across the prepared baking tray.
On a floured work surface use a lightly floured rolling pin to roll out the remaining dough to a large rectangle about 5mm thick.
Combine the melted butter, sugar and cinnamon in a small bowl. Using a pastry brush spread the cinnamon mixture over the dough rectangle. Sprinkle with the currants and gently roll the dough into a giant sausage.
Cut the dough sausage into 3cm-thick slices. Place the dough rounds swirly-side up on the dough base in the tray. They will swell and rise upon the second proving so don't worry if there are gaps.
Brush the dough rounds with the egg glaze and set aside for another 30 minutes to prove again.
Meanwhile, preheat the oven to 200°C (180°C fan-forced).
Bake for 20 minutes, until the scrolls are golden-brown.
Notes
Chocolate chips, diced apple or chopped nuts can deliciously replace the currants if you prefer.
These scrolls freeze really well – separate them into individual scrolls, wrap each one in plastic wrap and place in the freezer. Pop them into the lunch box while still frozen and they should be thawed perfectly by morning tea time.
This recipe was created by Sophie Hansen
Find more After school snacks
Serving Suggestions
Note