6
Ingredients
3 tbsp peanut oil
2 small (1kg) chicken breast, sliced into thin strips
3 tbsp chilli and garlic stir fry paste
1 pkt (850g) frozen Chinese stir fry vegetable mix
3 tbsp soy sauce
1 lime, juice only
1 cup (250ml) Coca-Cola
2 tbsp cornflour
1/4 cup (60ml) water
Method
Step 1. Prepare and measure out all ingredients.
Step 2. Heat the peanut oil in a wok until very hot and brown the chicken in small batches. Remove from heat and set aside.
Step 3. Reheat wok and add chilli and garlic paste to the pan, frying for 1 minute. Add frozen vegetables and continue to stir to coat.
Step 4. Pour in soy sauce, lime juice and Coca-Cola. Bring to the boil and simmer for 3-4 minutes or until the cola reduces by a third. Return the chicken to the pan. Dissolve the cornflour in the water and pour over chicken and vegetables. Bring to the boil and simmer until the sauce is thickened. Remove from heat and serve with rice or noodles.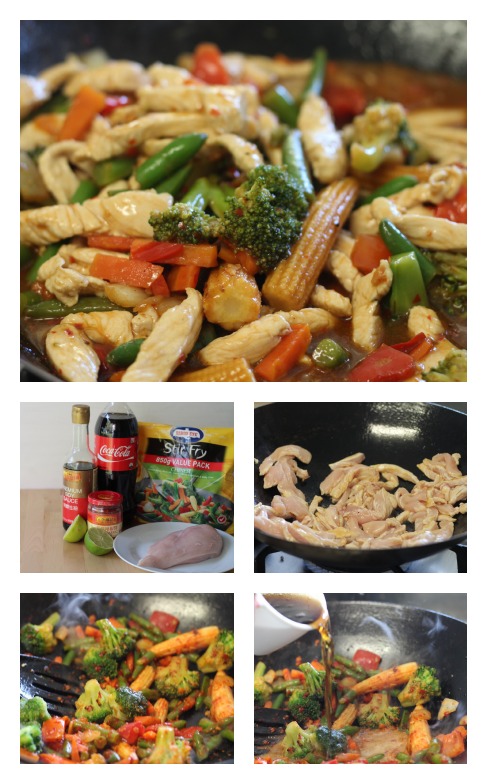 Find related stir-fry recipes
This recipe replaces the normal Asian ingredients like white sugar, palm sugar or even brown sugar to bring sweetness and balance flavours.
You need to taste the sauce as you are cooking to see if it is sweet enough. You may need to add more cola.
This recipe was created by Jennifer Cheung for Kidspot, New Zealand's best recipe finder.