Melted snowmen cookies
Serves:
Makes about 20 cookies
Ingredients
Basic cookie dough:
1/3 cup (80g) unsalted butter, softened
1/2 cup (115g) caster sugar
1 egg
1 tsp vanilla extract
1 1/3 cup (200g) plain flour
1/2 tsp baking powder
pinch of salt
To decorate:
1 cup (150g) pure icing sugar
licorice strips
red cachous
icing pens
small coloured sweets
Method
Step 1. To make the dough; Preheat oven to 180°C (160°C fan-forced) and line two trays with baking paper. Cream the butter and sugar together with an electric mixer until pale and fluffy. Add the egg and beat well. Fold in the vanilla, flour, baking powder and salt. Mix into  a dough, shape this into a disc, then wrap in plastic and let rest in the fridge for 30 minutes. Roll out and cut into circles (using a cookie cutter or the base of a glass tumbler). Transfer these to a baking tray and bake for 10 minutes or until golden.
Step 2. Let cool completely. Slice up a few licorice strips into thin strips for arms, legs, scarves, etc. Tiny dots for eyes or triangles for bow ties.
Step 3. Make up a basic white icing (just add a tiny bit of boiling water to pure icing sugar and stir, then add more water until you reach the desired consistency – should be fairly thick). Decorate the marshmallows with eyes, noses, mouths, etc. You can use an icing pen here, or just use the white icing as glue for the cachous.
Step 4. Decorate the cookies; spoon on a little white icing and spread over the surface of your cookie, then press the marshmallow down in the middle and decorate at will!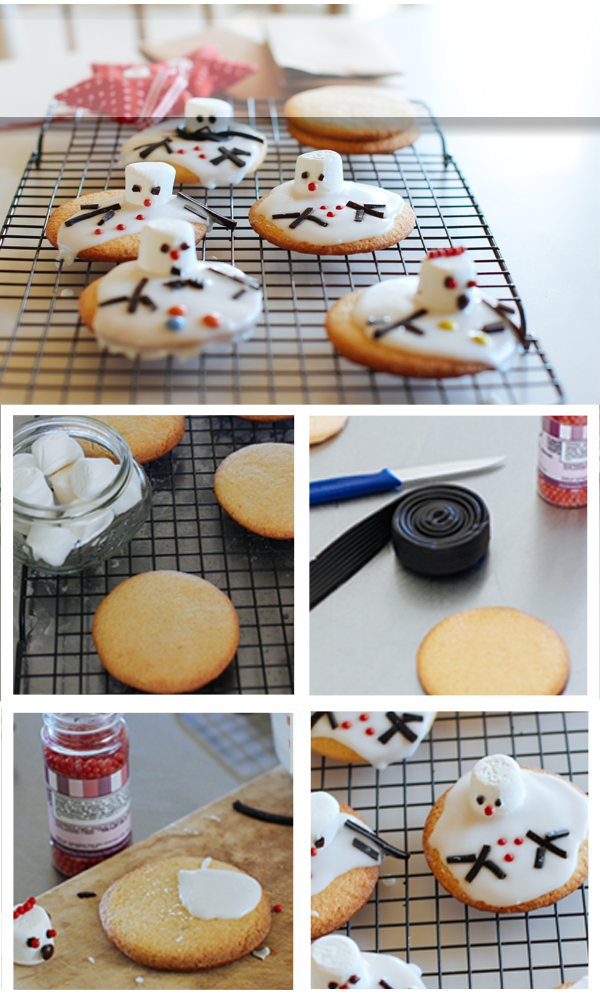 Find related sweet Christmas recipes
Serving Suggestions
Note
Add a few tablespoons of cocoa powder to the cookie dough mixture for chocolate bases for your snowmen.
This Fruit Christmas tree is a healthy alternative to all the indulgence of Christmas. It could be a beautiful edible centrepiece for your table.
You can make these Christmas tree brownies in one giant round and just slice and ice. They are easy and perfect for chocolate lovers.
You can make these Christmas chocolate spoons with the kids and enjoy some family time as you decorate them together.
If you like a round shortbread disc then this Christmas shortbread can be cut into "Petticoat tails" (triangles) and wrapped.
You can make these Snowman doughnut sticks with store-bought doughnuts and they are so much fun.
If you like jelly beans then this Jelly bean Easter bark could be shaped into Christmas baubles and given as gifts.
These Tiny Teddy Santa sleigh lollies are a fun cooking activity to make at Christmas with your family.
These cute Reindeer cupcakes use pretzel and Jaffas for Rudolph's nose.
You can make these Christmas ginger joy biscuits and thread them on string to create a Christmas decoration.
These Gingerbread families are made with a traditional gingerbread recipe and decorated with Royal icing.
This recipe was created by Sophie Hansen for Kidspot, New Zealand's best recipe finder: You can follow Sophie on Local is Lovely, Facebook, Twitter or Pinterest.