Potato chip and caramel fudge
Serves:
36 pieces
Ingredients
3 cups (570g) milk chocolate melts
1 x 395g tin sweetened condensed milk
1 x 500g pkt jersey caramels
2-3 tbsp water
3 cups crinkle-cut salted potato chips
1 tsp sea salt flakes
Method
Step 1. Line a 20cm x 20cm cake tin with baking paper and set aside. In a saucepan, over low heat, melt the chocolate and condensed milk together, stirring constantly. Remove from heat once chocolate is completely melted. Pour mixture into cake tin.
Step 2. In a heatproof bowl, add the caramels and 2 tbsp water. Microwave on high for 2 minutes, then remove from microwave and stir well until liquified. Add more water if the caramels are still solid.
Step 3. Pour the caramel over the fudge layer, top with crushed potato chips and a sprinkle of sea salt.
Step 4. Using a flat-bladed knife, gently scoop some of the chocolate to the top of the fudge so the layers are slightly combined. Refrigerate until firm. Cut into squares and serve.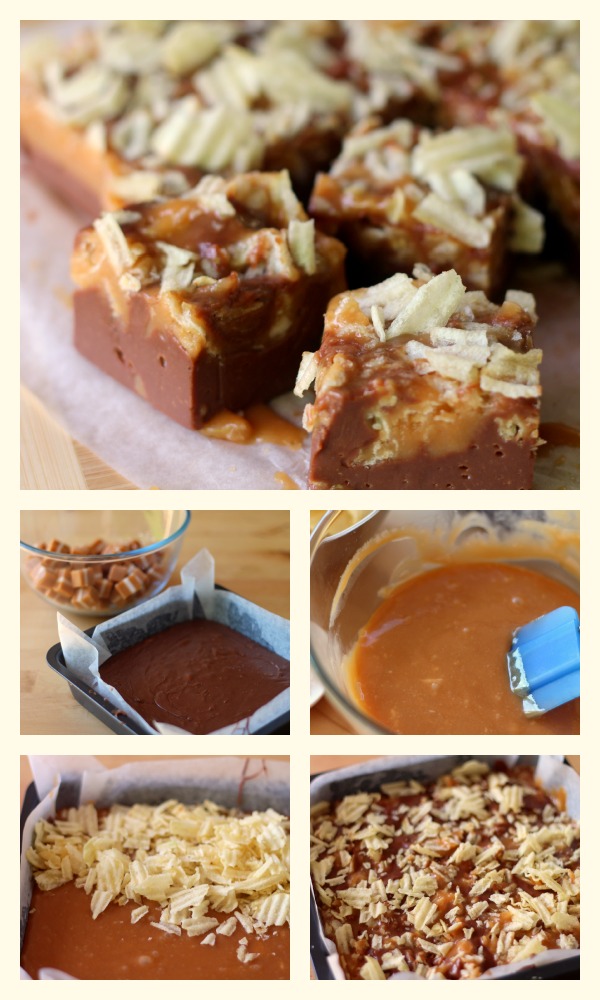 Serving Suggestions
Note
If you want your caramel layer really gooey, you can add an extra tablespoon of water to the caramel mixture.
You could also make this recipe with while chocolate.
We used a generic brand of cooking melts and still got a lovely creamy texture with the fudge.
This 2 ingredient chocolate fudge is really the basis for this delicious recipe.
You can also make this 2 ingredient strawberry fudge with just 2 ingredients.
If you want to take your fudge to another level then try this Easy Tim Tam fudge. It has three Tim flavours in one dish.
You can make fudge the fun way with this Fudge in a bag. Just pour the ingredients into the bag and let the kids do the rest.
Who knew fudge could be as easy at the Microwave chocolate fudge? It's great for kids as there is no stove involved.
If chocolate fudge isn't your favourite then try this Vanilla fudge. It's creamy and easy.
Did you know you can make Slow cooker chocolate fudge and end up with a great end result because the chocolate is slowly melted.
You can make White Christmas fudge for all your friends and family at Christmas. Just bag and tag it for a great gift.
If you like Bailey's then you will love our Irish cream fudge. It's the perfect grown-up treat.
This Caramel fudge gives you delicious fudgey blocks to eat or give away.
You can make this Choc-cherry fudge for the lovers of Cherry Ripe's in your family.
This recipe was created by Jennifer Cheung for Kidspot, New Zealand's best recipe finder.