Cheese and bacon cob dip
Serves:
Ingredients
1 tsp vegetable oil
1 onion, diced
8 slices (200g) shortcut bacon
1 pkt (250g) cream cheese
2/3 cup (170g) sour cream
2/3 cup (160ml) thickened cream
2 1/2 cups (200g) tasty cheese, grated
3 tbsp chives, chopped
1 cob loaf
1 French bread stick, sliced
canola spray
Method
Step 1. Preheat oven to 180°C (160°C fan-forced). In a frying pan over medium heat, place the oil, onion and bacon and fry until the onion is translucent and the bacon is browned.
Step 2. Add the cream cheese to the pan with sour cream, cream, cheese and chives. Reduce heat to low and whisk together until melted and combined. Remove from heat.
Step 3. Cut the top off the cob loaf and remove bread from inside the bowl. Tear bread into small pieces and place on a baking tray covered in baking paper. Spray lightly with canola oil. Add French bread to a second tray and spray lightly with canola oil.
Step 4. Pour cheese and bacon mixture into the cob loaf, place top on and bake for 15-20 minutes or until the outside of the cob is warm and crispy along with the bread pieces and extra French bread.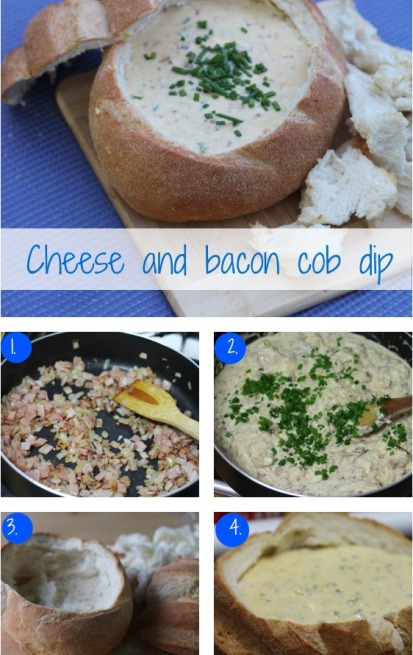 Serving Suggestions
Note
In this recipe you need the extra French stick because there is a LOT of yummy cheese and bacon dip.
Don't be tempted to add more than 200g of bacon in this recipe or it will become very salty.
Find more:
This recipe was created by Jennifer Cheung for Kidspot, New Zealand's best recipe finder.