Cupcake Christmas tree
Serves:
12
Ingredients
Method
Step 1. Make cupcakes and icing and keep about 3 tbsp of the buttercream separate and colour the remaining icing green. Ice 10 cupcakes with the green buttercream then decorate nine of these with smarties, keeping one green cupcake aside.
Step 2. Mix a little cocoa powder into the remaining buttercream, or until desired chocolate colour is achieved then ice the remaining two cupcakes before decorating with brown Smarties.
Step 3. For the star on top; you can either ice a star-shape onto your remaining green cupcake, or top with a star-shaped cookie as we have. Top this with a little green icing and one pretty red Smartie.
Step 4. Arrange the cupcakes into a tree shape then finish with the two brown cupcakes and you're done!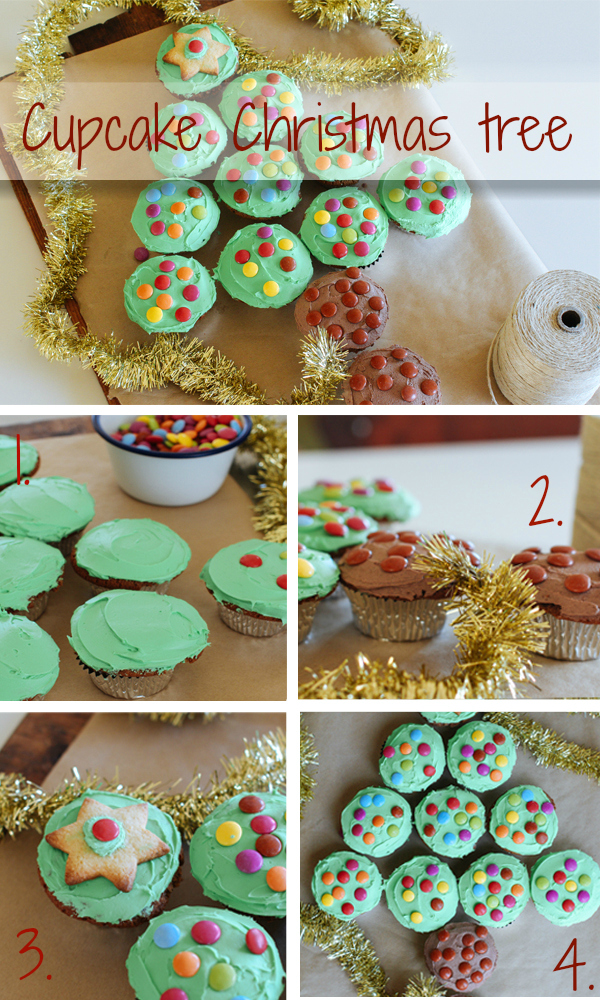 Find related sweet Christmas recipes
Serving Suggestions
Note
You could totally cheat and buy muffins for this recipe if you need something in a hurry for a party.
We used Smarties in this recipe but in a pinch you could also use M&M's.
You can make these Christmas chocolate spoons with the kids and enjoy some family time as you decorate them together.
If you like a round shortbread disc then this Christmas shortbread can be cut into "Petticoat tails" (triangles) and wrapped.
You can make these Snowman doughnut sticks with store-bought doughnuts and they are so much fun.
You can make these Christmas ginger joy biscuits and thread them on string to create a Christmas decoration.
You can make these Christmas tree brownies in one giant round and just slice and ice. They are easy and perfect for chocolate lovers.
These Edible glitter berries are the perfect addition to a platter, buffet table or even on the top of your favourite chocolate cake.
These Caramel Christmas apples are a delicious take on candy apples for the festive season.
You can make these Christmas ginger joy biscuits and thread them on string like we have. They make a delicious Christmas garland.
These little Meringue Christmas trees are dipped in chocolate and decorated with crunchy candy canes.
These Christmas snowflake biscuits are a lovely homemade gift for teachers and friends. They are decorated with pretty glitter decorations.
This recipe was created by Sophie Hansen for Kidspot, New Zealand's best recipe finder: You can follow Sophie on Local is Lovely, Facebook, Twitter or Pinterest.