20
Ingredients
3 medium brown onions, diced
4 cloves garlic, crushed
1 small cabbage (or half of a large cabbage)
1 bunch celery, sliced
1 red capsicum, diced
4 medium carrots, diced
2 zucchini, diced
1 tin (800g) diced tomatoes
1pkt (40g) French onion soup mix
1 tsp chilli flakes (optional)
Method
Step 1. Gather all ingredient and the largest soup pot you have. Place the onions and garlic into the pot, over medium heat and sweat for 2-3 minutes until fragrant. Add the rest of the ingredients.
Step 2. Cover with water and bring to the boil. Reduce heat to low.
Step 3. Simmer for 2-3 hours.
Step 4. Remove from heat and leave to cool. Store in the refrigerator when cooled. Will last 3-5 days.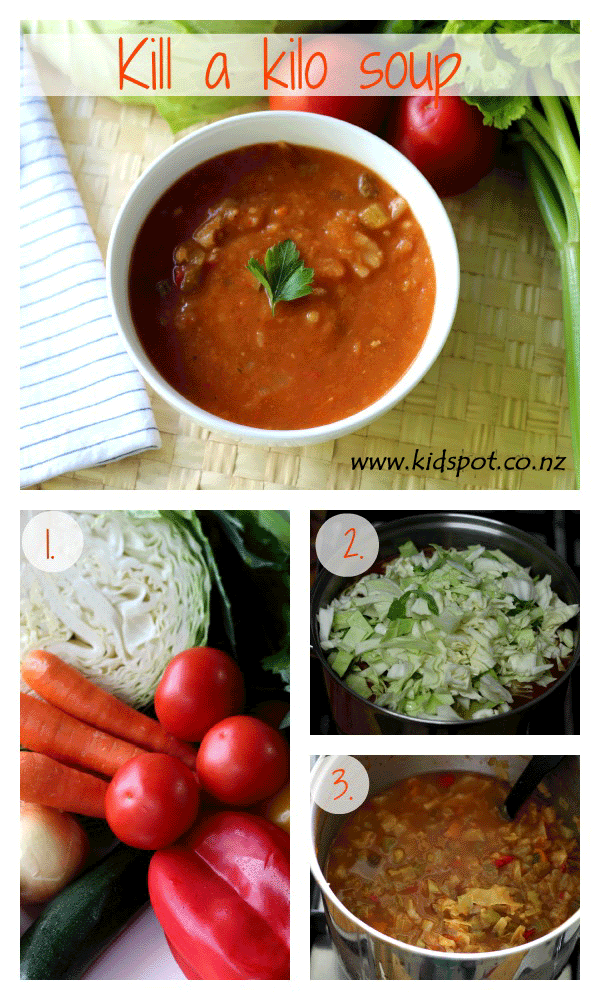 Notes:
You can garnish this soup with some parsley or even top with a little parmesan cheese.
If you find this soup a bit watery then you can remove half and blend it until smooth and then place it back into the rest of the soup.
This soup will last 3-5 days refrigerated. You can freeze portions for up to 8 weeks.
This Barley and vegetable soup has a bit more substance to it with the addition of barley. It's a great grain to add to your soup and very tasty and filling.
If you need a bit more flavour and protein then you can make this Beef and carrot soup.
This Chunky vegetable soup with chickpeas is a meal in a bowl and great for a take-to-school or work lunch.
If you like pasta in your soup then you can make this Chicken noodle soup .
If you like spicy sausage then this Chorizo and sweet potato soup is packed full of flavour and even the kids will love its kick.
When you find mushrooms on sale then this Creamy mushroom soup is a great winter staple.
This recipe was created by Jennifer Cheung for Kidspot, New Zealand's best recipe finder.