Raspberry and coconut smoothie bowl
Serves:
Ingredients
1 large banana, chopped and frozen
1 cup baby spinach
1 cup (250ml) coconut water
3 tbsp shredded coconut + 1 tbsp for topping
1 cup frozen raspberries + 2 tbsp for topping
1/2 cup quick oats + 2 tbsp for topping
Method
Step 1. Gather all ingredients.
Step 2. Place all ingredients into the blender except for the toppings.
Step 3. Blend until smooth and creamy (remember you need it to be a spoon-able consistency).
Step 4. Pour into a bowl and top with extra berries, coconut and oats.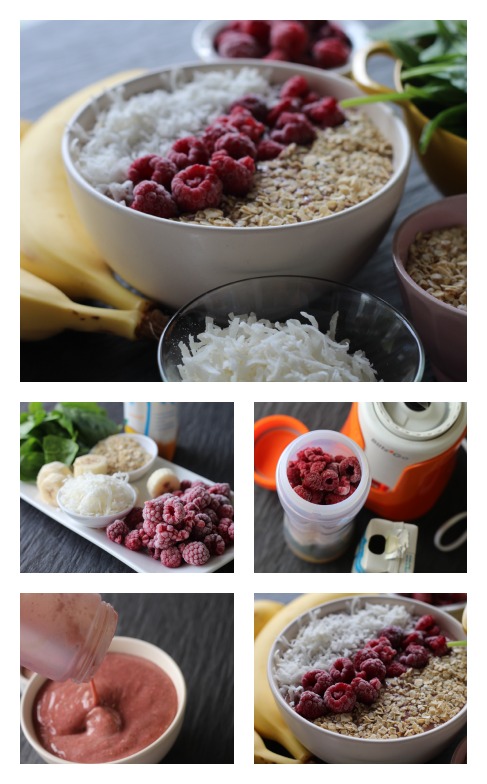 Find more smoothie recipes:
Serving Suggestions
Note
The ideal smoothie bowl has frozen banana for creaminess, a type of vegetable like spinach or kale, some grain like oats or chia and delicious seasonal fruit.
You can also use whole milk, fruit juice or drinking yoghurt in place of the coconut water.
I used a Kambrook Blitz 2 Go for this smoothie bowl. They are perfect for smoothies on the run.
This recipe was created by Jennifer Cheung for Kidspot, New Zealand's best recipe finder.