12
Ingredients
Base
1/2 cup quick cooking oats
1/2 cup flaked coconut
1/2 cup plain flour
1/4 tsp bicarbonate soda
1/2 cup brown sugar
1/3 cup butter, melted
20ml (1 tbsp) golden syrup
Brownie
60g (1/4 cup) butter
115g dark chocolate
2 large eggs, at room temperature
2/3 cup (160g) caster sugar
2.5ml (1/2 tsp) pure vanilla extract
3/4 cup plain flour
Method
Step 1. Preheat oven to 180°C conventional (160°C fan-forced). Line a slice tin with baking paper and set aside. In a bowl, combine the oats, coconut, plain flour, bicarbonate soda, butter and golden syrup.
Step 2. Press mixture into the tin and bake for 8-10 minutes. Remove and leave to cool in the pan.
Step 3. Reduce the oven temperature to 160°C conventional (140° C fan-forced). In a pan, melt the butter and chocolate together over a low heat. Remove from heat to and leave to cool. In a bowl whisk together the eggs, sugar and vanilla and then whisk in the chocolate mixture. Fold in flour with a spatula. Pour brownie mixture over Anzac biscuit layer. Return to the oven and bake for 15-20 minutes. Remove from oven and leave to cool entirely before slicing.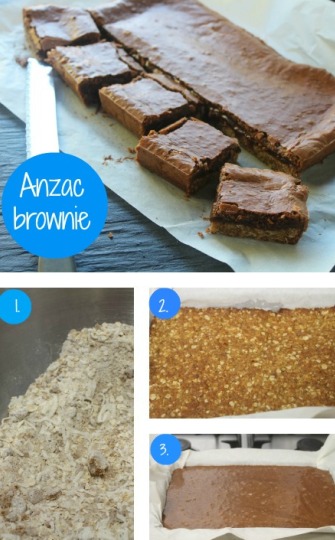 Find related Anzac recipes
Instead of using a pan, you could melt the butter in a cup in the microwave for 1 minute on high, sit the chocolate in it for a minute and then stir.
The brownie is done when it has a shiny cracked appearance on top.
This recipe was created by Jennifer Cheung for Kidspot, New Zealand's best recipe finder.