Grape caterpillars
Serves:
Ingredients
300g green grapes
short wooden skewers
1 x 50g tube writing fudge, white chocolate
mini milk choc bits
Method
Step 1. Remove grapes from stalks, wash, dry well and slice in half.
Step 2. Thread grapes onto skewers, alternating the halves to re-form the grapes.
Step 3. Trim points from skewers with scissors.
Step 4. Dot writing icing onto the back of the coated chocolate chips and place as eyes on each caterpillar.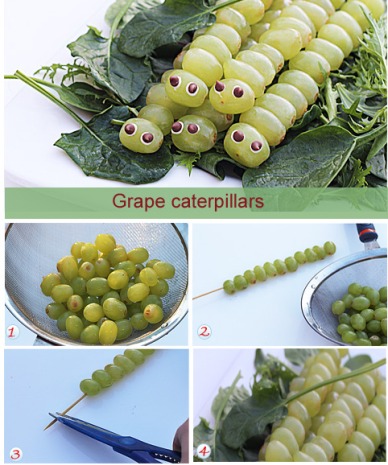 Notes:
To serve these for parties, you can lay them on a bed of lettuce.
Make sure you trim off the sharp tips of the skewers. Especially if serving these to small children.
This recipe was created by Jennifer Cheung for Kidspot, New Zealand's best recipe finder.
For children it is best to slice grapes in half to avoid choking.
Serving Suggestions
Note