Microwave choc chip cookies
Serves:
Ingredients
1/4 cup (40g) plain flour
1 tbsp caster sugar
1 tbsp brown sugar
pinch of salt
1 tbsp butter
1 egg yolk
1/4 tsp vanilla
2 tbsp mini choc chips
Method
Step 1. In a small bowl, place all the ingredients except for the mini choc chips.
Step 2. Mash together well with a fork until thoroughly combined.
Step 3. Add the choc chips and lightly mix together until the choc chips are dispersed throughout the mix.
Step 4. Lightly coat two ramekins with butter and roll the mixture into two balls and gently press each one into the base of the ramekin. Microwave on high for 60 seconds and then check. You may need to microwave for a further 30 seconds, depending on whether you like your cookies crunchy or not.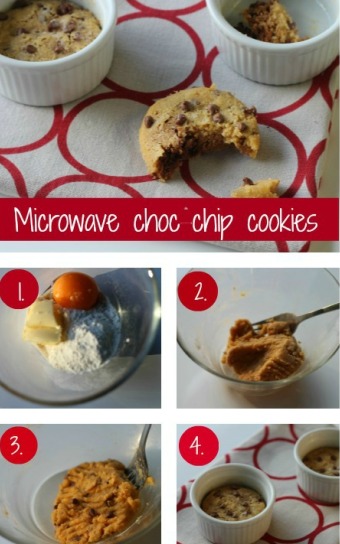 Find related biscuit and cookie recipes
Serving Suggestions
Note
The longer you cook these, the crunchier they become.
You won't need to melt the butter – just mash it well with the fork.
I used mini choc chips but you can use regular sized ones instead.
This recipe was created by Jennifer Cheung for Kidspot, New Zealand's best recipe finder.