There are so many scrumptious things you can do with a tin of tuna and you need never make the same dish twice. Here are 21 ways to start putting tuna back on the table.
Snacks and salads
1. Tuna and veggie boats
Line up these edible ships and make a party platter of nibbles that everyone will be keen to devour. All aboard!
See here for the Tuna and veggie boats recipe.
2. Potato free tuna patties
Looking for finger food with high nutritional value? Toddlers and bigger kids alike will go crazy for these uber-tasty snacks.
3. Tuna puffs
These perfect little lunch box bites will ensure the kids have something healthy and yummy to munch on at school.
4. Tuna dip
Sink veggie sticks or crackers into a bowl of this delish dip and your guests (both big and small) will think you're the host with the most!
5. Tuna melts
For a delicious weekend brunch or lunch idea the whole family will enjoy. You can't go past these crunchy melts. Easy as.
6. Lazy nicoise salad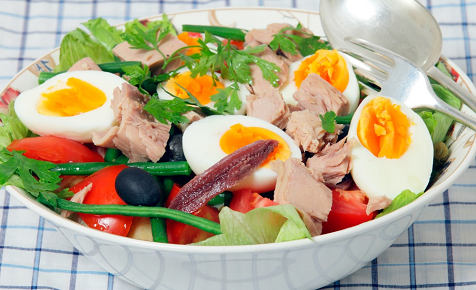 This super-easy tuna and egg salad makes the perfect protein-rich light lunch – with optional sweet chilli dressing.
7. Fish croquettes
Serve these delish party size bites, with smooth homemade tartare sauce, at your next family 'do'. Guaranteed to be a huge hit.
8. Zucchini, tuna, orange and rice salad
Fab as a side dish or as a small meal – the fresh flavours in this yummy salad will really make your taste buds sing.
9.  Tuna and cannellini bean salad
This is a perfect pantry meal. Mix all the ingredients together for a flavoursome lunch.
10. Tuna and sweetcorn sandwich
Mix the ingredients together and smother on a piece of fresh bread, this versatile recipe can be used in a whole host of ways, including as a toasted sandwich option.
Main meals
11. Creamy tuna, pea and capsicum pasta
Need dinner in a hurry? This pasta dish will ensure that the family is fed post haste and the leftovers can be used for lunch the next day. Winning!
12. Tuna melt stuffed capsicums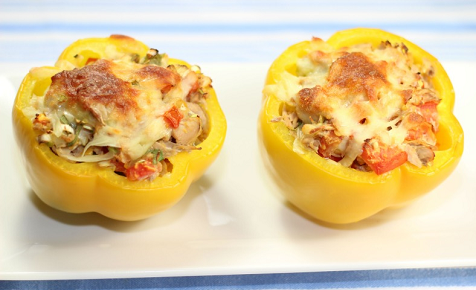 These healthy tuna melt peppers are easy to make and you end up with a tasty dinner that even the kids will love! Yum.
13. Tuna and veggie stir fry
Grab your wok and a few essential ingredients, and your hearty family stir-fry is only minutes away. 'Tis a mid-week masterpiece!
14. Tuna and broccoli stir-fry
Create your own Asian-inspired stir-fry using tuna. The kids will think they've hit the jackpot.
15. Friday fish bake
This comforting dish is just what the doctor ordered after a long week at school and work. Yes please!
16. Tuna fried rice
The perfect meal when you are in a hurry and one that will leave the family licking their lips and asking for more.
17. Tuna mornay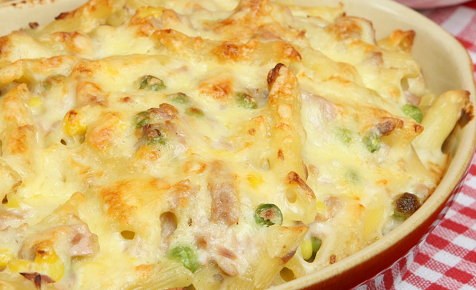 I defy you to put a plate of THIS under your toddler's nose and have him refuse it. This is one dish that is madefor the little people in your life.
18. Tuna slice
Get back to basics with this popular slice offering. Lovely for lunch but filling enough for a fast dinner.
19. Tuna casserole
Turn the humble casserole up a notch with this flavour-packed recipe. Wonderfully warming!
20. Hand-wrapped little sushi
Rolling your own sushi is much, much easier than you think. Give it a go and you'll be pleasantly surprised.
21. Tuna burgers
Is your family burger crazy? Mix it up a bit and try these tender tuna patties. Sunday lunch has never tasted so good!