6
Ingredients
6 egg whites
1 1/4 cups (230g) caster sugar
2 tsp cornflour
1 tsp vanilla extract
Topping
600ml cream, whipped until thick
1 banana, sliced
2 kiwifruit, peeled and sliced
1 punnet strawberries, halved
6 tbsp passionfruit pulp
Method
Step 1. Gather all ingredients. Line a six litre slow cooker with baking paper and set to high.
Step 2. Using a mixer, beat the egg whites until stiff and glossy. Then add the caster sugar a little at a time, with the mixer running, until all caster sugar is incorporated. Add the cornflour and vanilla extract and beat until just mixed in.
Step 3. Pour mixture into lined slow cooker and smooth over the top with a metal spoon. Place a clean tea towel over the top of slow cooker and place the lid on top of the tea towel (this absorbs any condensation while still allowing the pavlova to set). Cook for 2 hours on high setting and turn slow cooker off and leave until entirely cooled.
Step 4. Remove by lifting pavlova from the slow cooker carefully using the baking paper. Top with fresh cream and decorate with fruit. Spoon over passionfruit pulp and serve.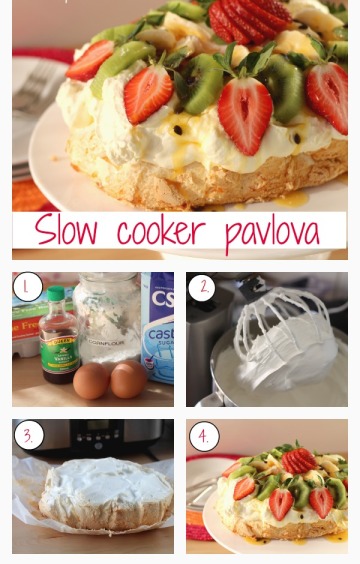 Find related pavlova recipes
To ensure that your pavlova mix is of the right consistency you can turn the bowl upside down and if the mixture stays in the bowl it is ready to cook.
Refrigerate any uneaten portions to keep the cream fresh.
The tea towel is safe to leave under the lid of the slow cooker as it becomes slightly damp and is never in danger of catching fire.
You will need a good mixer or a very strong beating arm and a whisk to mix this pavlova mixture.
This recipe was created by Jennifer Cheung for Kidspot, New Zealand's best recipe finder.