80 biscuits
Ingredients
1/4 cup (60g) butter, softened
1/2 cup (125ml)honey
1 cup (150g) plain flour
1/2 cup (75g) self-raising flour
1/2 tsp bicarbonate soda
1 tsp vanilla extract
Method
Step 1. Preheat oven to 180°C (160°C fan-forced). Line a baking tray with paper and set aside. Place all ingredients into a food processor or mixer and mix until you have a smooth ball of dough. Cover with cling wrap and allow to rest at room temperature for 10 minutes.
Step 2. Roll the dough out into a rectangle until it is 4mm thick.
Step 3. Cut out teddy shapes using a cookie cutter and place onto the baking tray.
Step 4. Bake for 5-6 minutes or until pale golden. Allow to cool on the tray for 5 minutes and then transfer to a wire rack to cool further.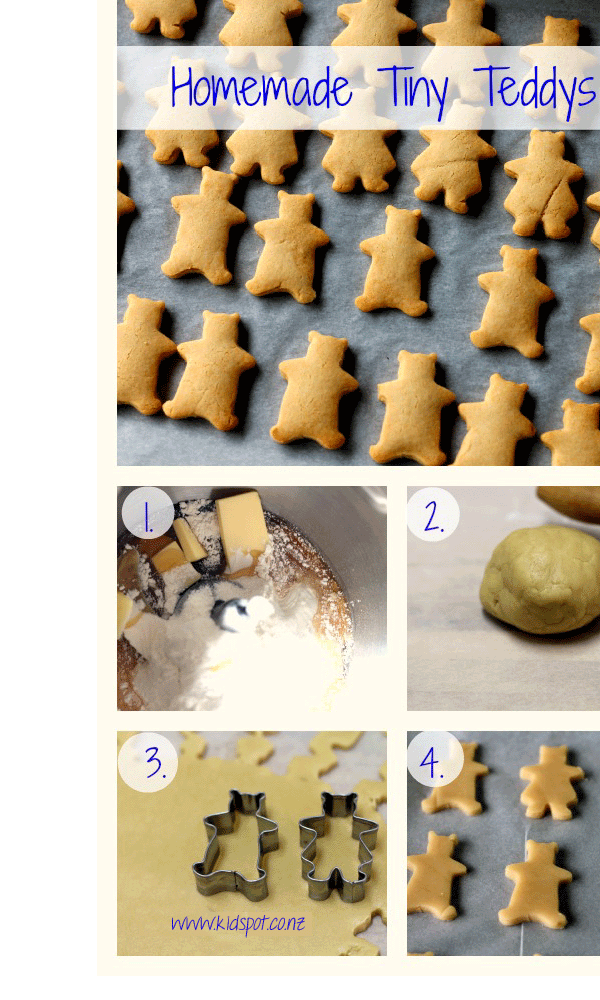 You may like to roll the dough between two sheets of baking paper so it doesn't stick to the surface or make a big mess.
You can add 100's & 1000's to this mix or even 2 tbsp of cocoa to make chocolate teddy biscuits.
You will need to keep an eye on these while they are in the oven. You don't want the honey in the mixture to burn.
These 3 in 1 biscuits are versatile and are great for lunch boxes.
These Anzac biscuits can be made crunchy or soft depending on how long you bake them.
Kids will love making these Coconut biscuits. Get them to help you stir the mixture.
If you have little ones that are reluctant to eat breakfast then these Breakfast biscuits may just be the thing you are looking for.
Simple chocolate biscuits are a lot easier to make than you think. You could have these in the oven and baking in 10 minutes.
If you are looking for a crunchier version then these Chocolate crispy biscuits will do the job.
You can use up leftover cereal in these Cornflake, sultana and cranberry biscuits.
This recipe was created by Jennifer Cheung for Kidspot, New Zealand's best recipe finder.