8-Dec
Ingredients
4 eggs (separate yolks from whites), room temperature
3/4 cup (150g) sugar
1/2 cup (125g) butter, melted
1 tsp vanilla extract
3/4 cup (115g) plain flour, sifted
2 cups (500ml) milk, lukewarm
2 tbsp icing sugar, sifted
Method
Step 1. Preheat oven to 170°C (150°C fan-forced). Line a 15cm x 25 cm baking dish with baking paper and set aside. Separate eggs and beat the whites in a clean, dry bowl until they form stiff peaks. Set aside.
Step 2. In a large bowl, beat the egg yolks with sugar until light and frothy and then beat in butter and vanilla extract. Add flour a little at a time until well incorporated. With the mixer running add the milk a little at a time until combined.
Step 3. Gently fold in egg whites until combined and pour into dish.
Step 4. Bake for 45-70 minutes or until a light golden crust is formed on the top of the cake.
Dust sifted icing sugar generously over the top of the cake and serve.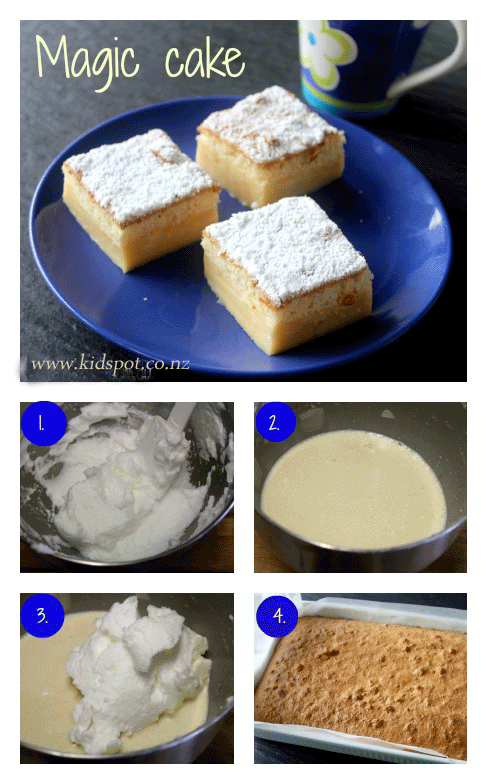 Find more delicious cake recipes:
The variation in cooking time depends on how well you follow the directions. Room temperature eggs, lukewarm milk and melted butter all make a big difference.
After you add the milk you will have a very liquid mixture. Don't panic! It will come together in the end.
This recipe was created by Jennifer Cheung for Kidspot, New Zealand's best recipe finder.