Mince pie pops
Serves:
20
Ingredients
2 sheets ready-made shortcrust pastry, defrosted
1 jar (410g) fruit mince (you only need about 1/2 cup)
1 egg, lightly beaten
2 tbsp icing sugar
You will also need:
1 small round cookie cutter (5cm diameter)
1 extra small star-shaped cookie cutter
20 pop sticks
ribbons or stickers for decoration
Method
Step 1. Preheat oven to 200°C (180°C fan-forced). Line a baking tray with baking paper and set aside. Place the pastry sheet on a flat surface and cut out 40 rounds. Use the star cutter to cut out the centre of 20 rounds for the tops.
Step 2. Place pop sticks into the centres of the pastry rounds. Use small pieces of leftover pastry to stick the pop sticks down. Place 1/2  tsp of fruit mince on 20 rounds. Wet the star-cut pastry rounds all over one surface and place wet side down on the fruit mince.
Step 3. Use a fork to crimp edges.
Step 4. Brush with beaten egg and bake for 12 minutes. Tie ribbons onto pop sticks and sift icing sugar onto each pie.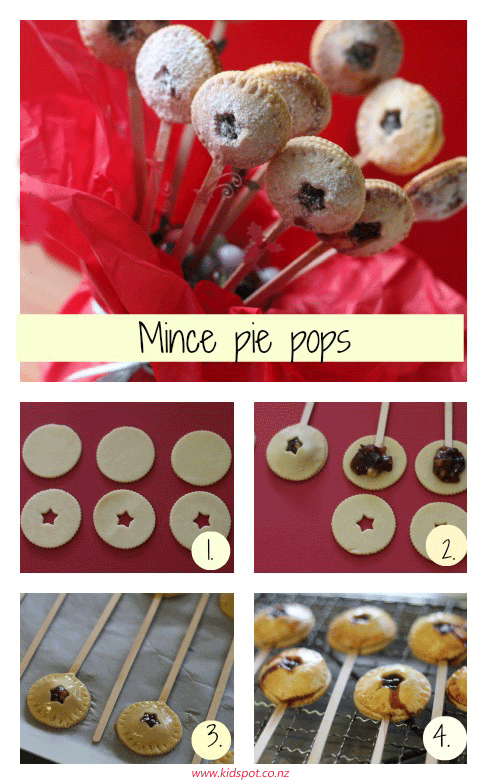 Find related sweet Christmas recipes
Serving Suggestions
Note
You can hot glue Christmas decorations on the sticks if you prefer.
If you don't have pop sticks you can make these and pop them into a tiny gift box instead.
This recipe was created by Jennifer Cheung for Kidspot,New Zealand's best recipe finder.