4-6 serves
Ingredients
2 tbsp olive oil
1 medium brown onion, diced
2 cloves garlic, crushed
5 cups (1.25L) boiling water
250g dried pasta
1 tbsp chicken stock powder
1 cup fresh basil leaves, shredded, plus a few leaves to garnish
1 punnet grape tomatoes
1 cup (200g) mozzarella cheese, cubed
salt and pepper
2 tbsp balsamic vinegar
Method
Step 1. Gather all ingredients and boil the kettle.
Step 2. In a frying pan, over medium heat, add the olive oil and saute the onion until translucent. Add the garlic to the pan and cook for 1 minute, until fragrant.
Step 3. Pour the boiling water into the pan and return to the boil. Add the pasta and sprinkle over stock powder. Return to the boil and cover. Once boiling, reduce heat and simmer for 7 minutes. Remove lid and cook for a further 7 minutes, until the liquid is reduced.
Step 4. Add the basil, tomatoes and cheese to the pan. Stir through and cover. Cook over medium heat for 2-3 minutes until the cheese has melted. Remove from heat and season well, scatter remaining basil leaves over the top and drizzle balsamic vinegar over. Serve.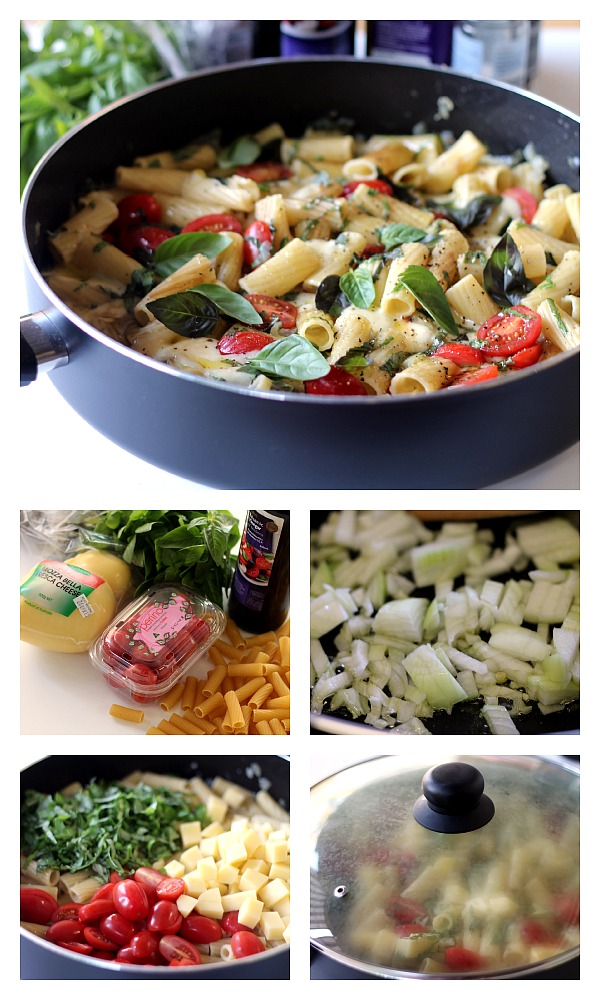 Placing the lid on and taking it off in these recipe instructions is really important so you have the right amount of liquid in the pan by the end of the recipe.
We used grape tomatoes because they are sweet but you could also use cherry tomatoes or even chopped tomatoes.
We used rigatoni, but you can choose any pasta you prefer.
The mozzarella cubes may be replaced with shredded mozzarella.
Don't forget to add that balsamic vinegar at the end of the recipe. It gives the flavours a nice balance.
This Bacon and chilli is another family-friendly pasta recipe and it is really economical to make.

The kids will love this delicious

Bacon cheeseburger pasta

. It is just like a burger but in a bowl.

Pumpkin is the star in this Chicken and pumpkin penne dish, and it is delicious.
If you like the cheese in your pasta a tad salty then this Chorizo and haloumi penne is perfect.
If creamy pasta is your thing, then this Chicken and mushroom carbonara is delicious.
Chorizo is the hero in this Chorizo pasta and it is super economical.
When less cooking and more eating is the order of the day then this Cherry tomato and tuna pasta salad is perfect.
Grabbing a barbecue chook is an easy way to do dinner, and that is exactly what this Barbecue chicken pasta bake uses.
If you need a delicious winter warmer then this Bacon leek pasta will do the trick.
This recipe was created by Jennifer Cheung for Kidspot, New Zealand's best recipe finder.